RIZQ LCWU SOCIETY NEWSLETTERS

RIZQ LCWU PROJECTS & VOLUNTARY WORK
Ramadan Drive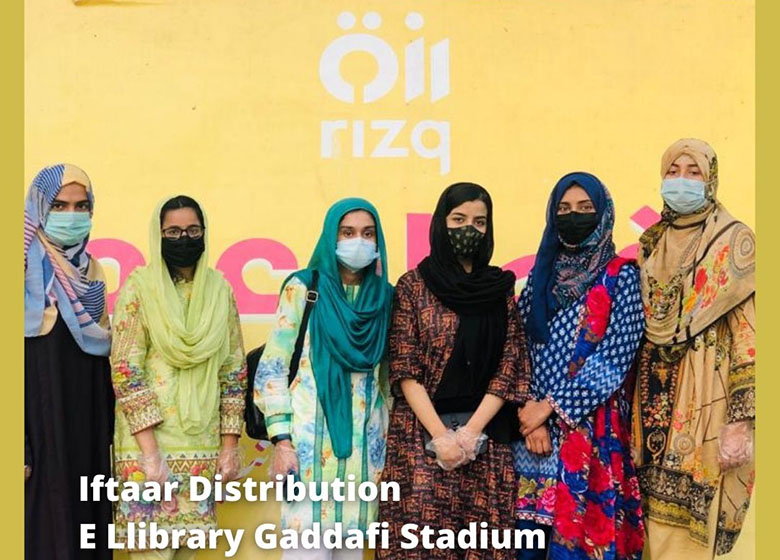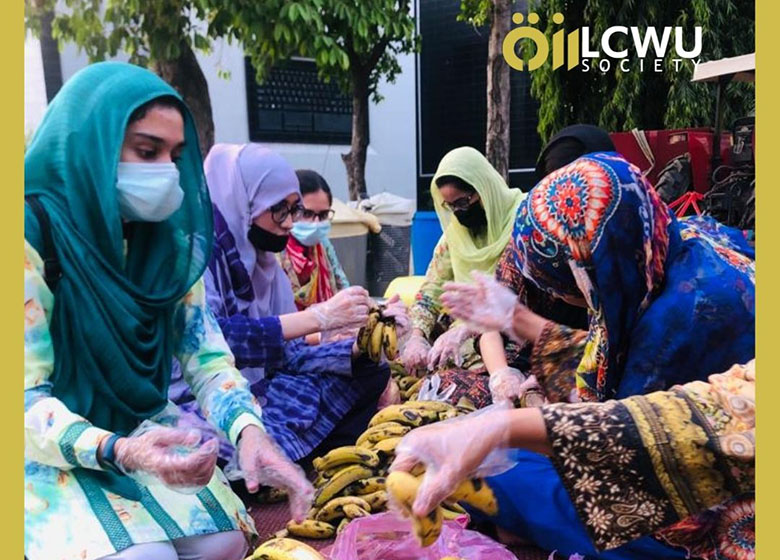 During Ramadan'2022, total 15 members from RIZQ LCWU Society took part in arranging RIZQ Iftar-e-Aam Dastarkhawan at Shaukhat Khanum & E-Library, Ghaddafi Stadium, Lahore. Our vigilant team played an active role by unfolding dastarkhawan. It also made juices & served guests with the scrumptious food in their plates. The pretty snapshots captured are the living proof of love & hardwork our team invested in arranging Iftaar dastarkhawan. A similar food distribution was held for the food insecure students at LCWU.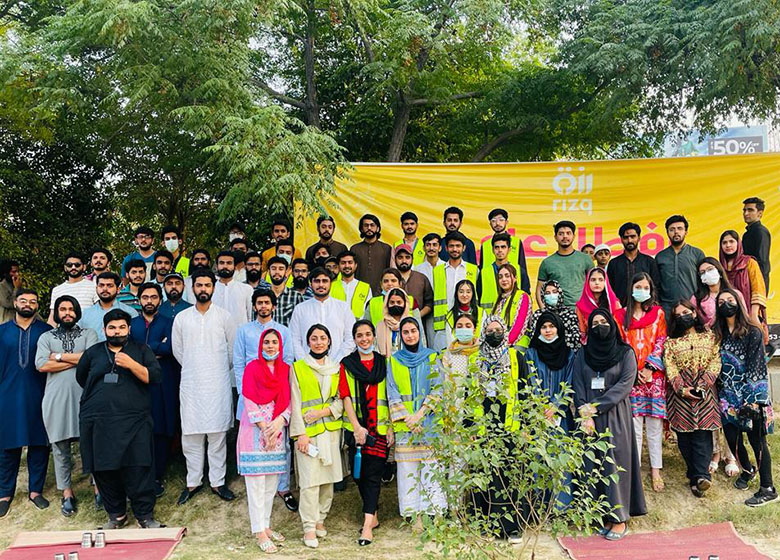 Ramadan Closing Ceremony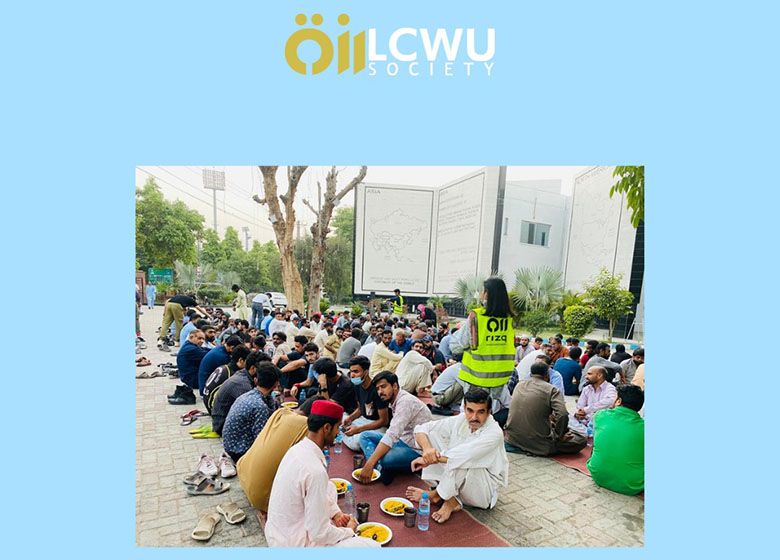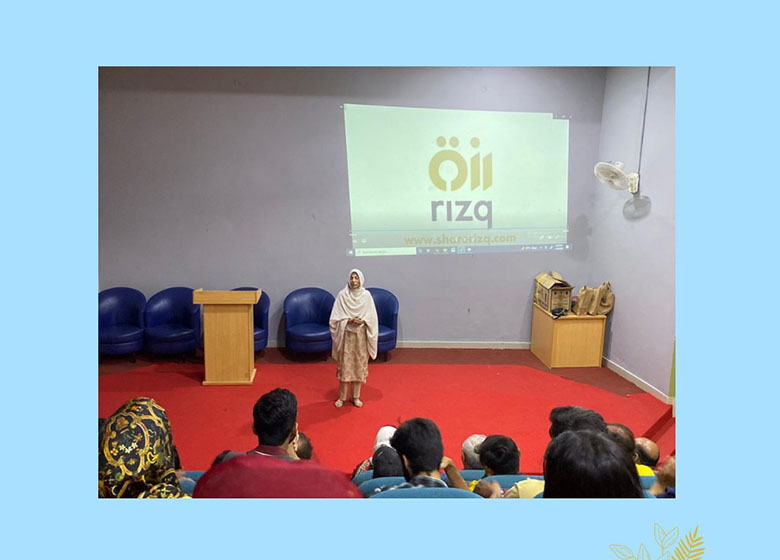 28th Ramadan's aftar was marked as the closing aftar of RIZQ Share Food. The last aftar dastarkhawan of the year 2022 was conducted at E-Library, Ghaddafi Stadium, Lahore. At the end, the closing ceremony took place to celebrate the successful ending of RIZQ Aftar-e-Aam'2022. Co-founders, Musa Amir & Huzaifa Ahmad along with Ms. Rukhsana remained the limelight of the ceremony as they appreciated the efforts of anti-hunger warriors and the donors who made RIZQ Ramadan Program a successful shot. President & Team RIZQ LCWU Society also attended the closing ceremony. They shared their successful drive for food distribution for the food insecure staff and students of LCWU.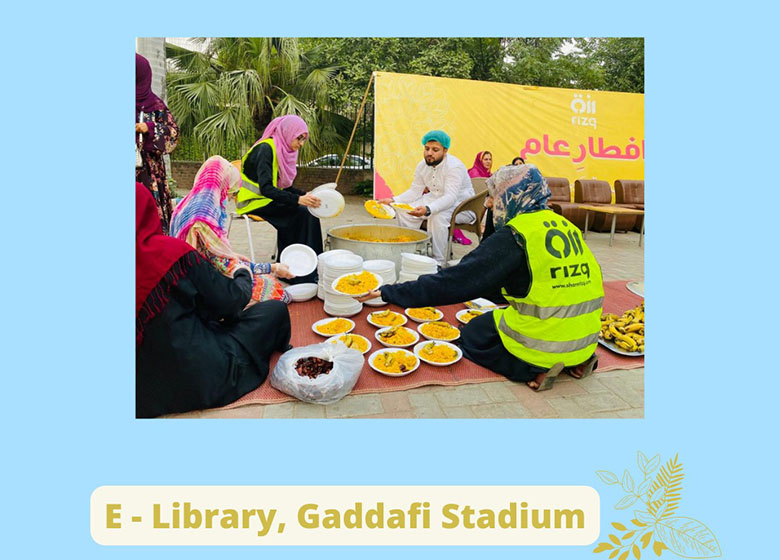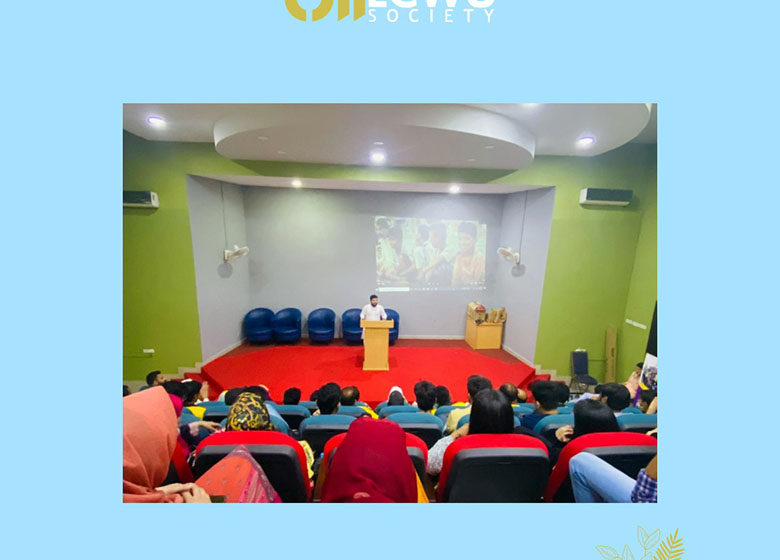 Stationary and toys drive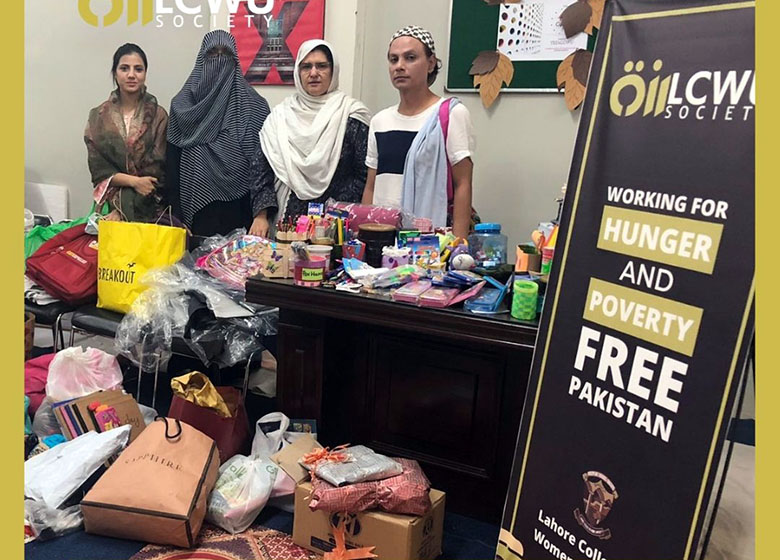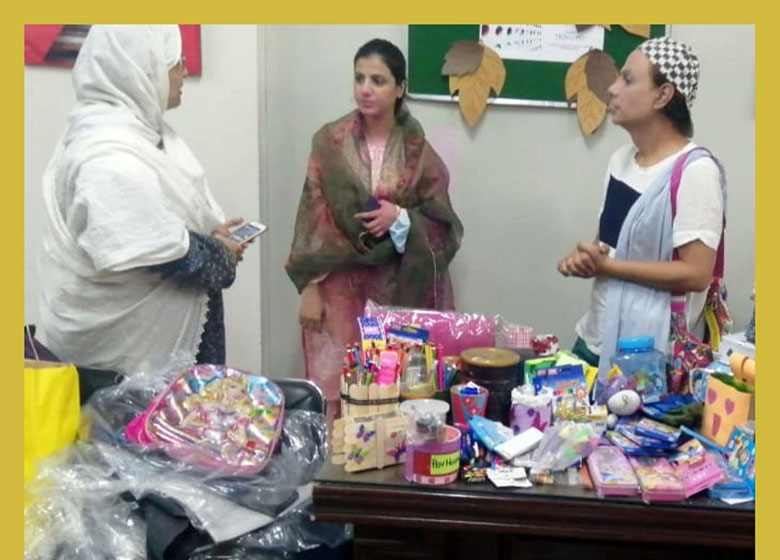 RIZQ LCWU Society conducted a stationery, bags, toys and clothes drive for Akhuwat Foundation. With the help of immense donations from our donors, this drive became successful. By April 29, 2022, this collection was donated to team Akhuwat for the betterment of unprivileged community.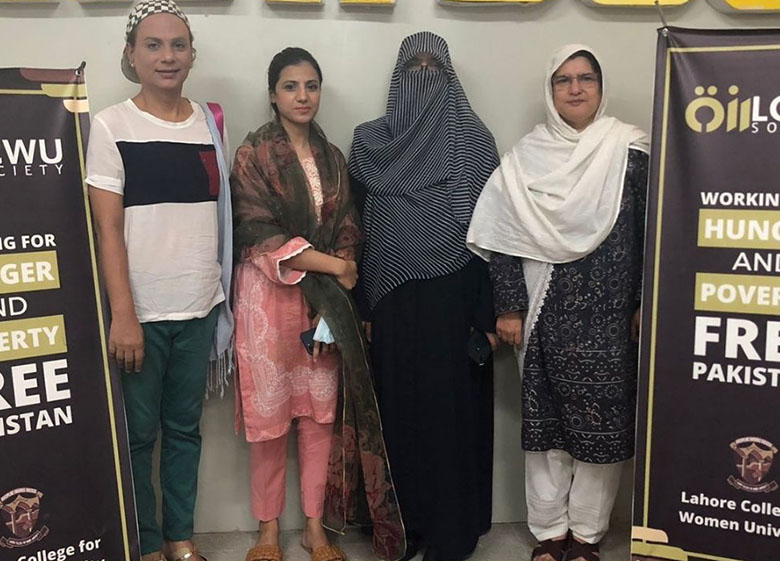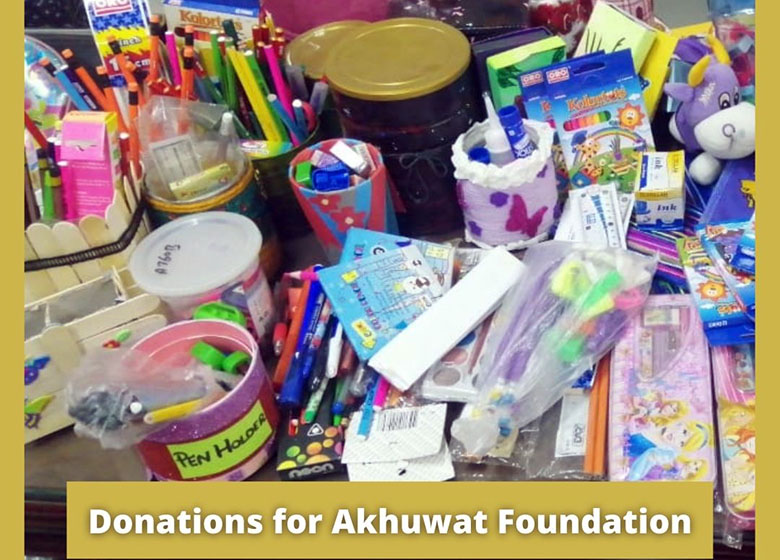 EID PACKAGES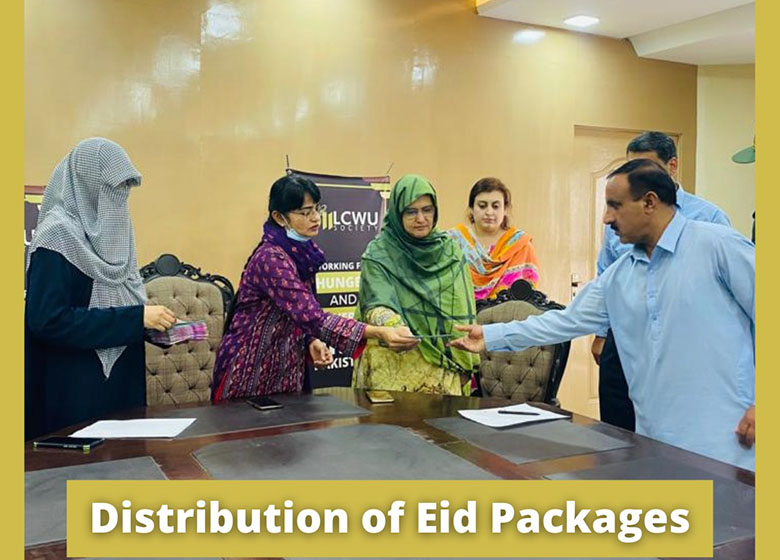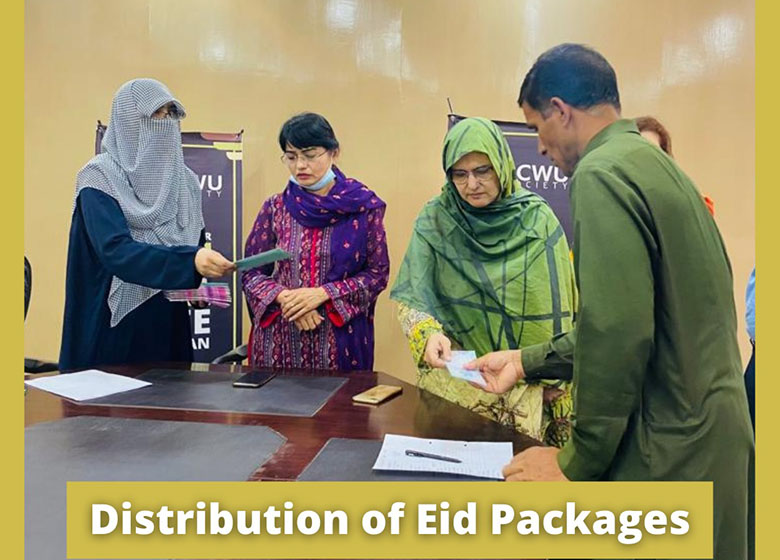 28 April, 2022, RIZQ LCWU Society distributed Eid Packages among the deserving guards and non-teaching staff of LCWU, as well as the deserving blue and white collar food insecure students, with the facilitation of Security In-charge, Mr. Qadeer. Director Student Affairs, Dr. Sumera Sajjad also graced the occasion with her presence. Dr. Asma Shahid Kazi and Ms. Shagufta Moghal from Department of Elementary and Teacher Education organised and supervised the Ramadan Drive. Fortunately, RIZQ LCWU Society remained successful in raising funds of rupees 02 lacs this Ramadan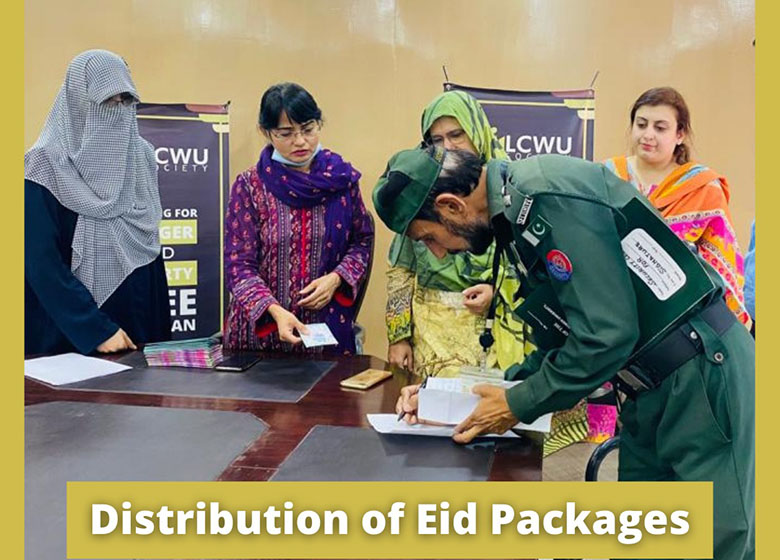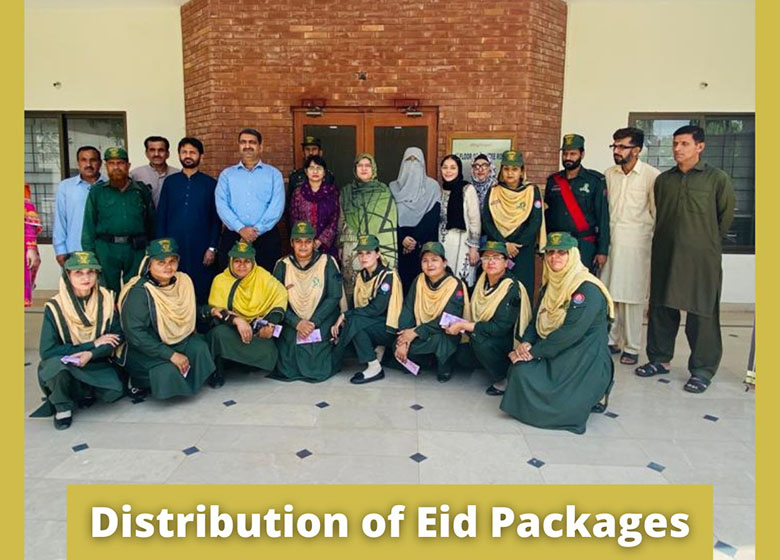 Eid drive
In the last ashra of Ramadan, RIZQ LCWU Society prepared & donated 101 Eid Gift Boxes and waistcoats to Musa Multiplex Zone. These gift boxes & waistcoats were donated to a slum school in Johar Town. Doantions from team RIZQ LCWU Society, students & faculty, LCWU made this project a successful shot.
Distribution of Water Bottles among Traffic Custodians and Workers around LCWU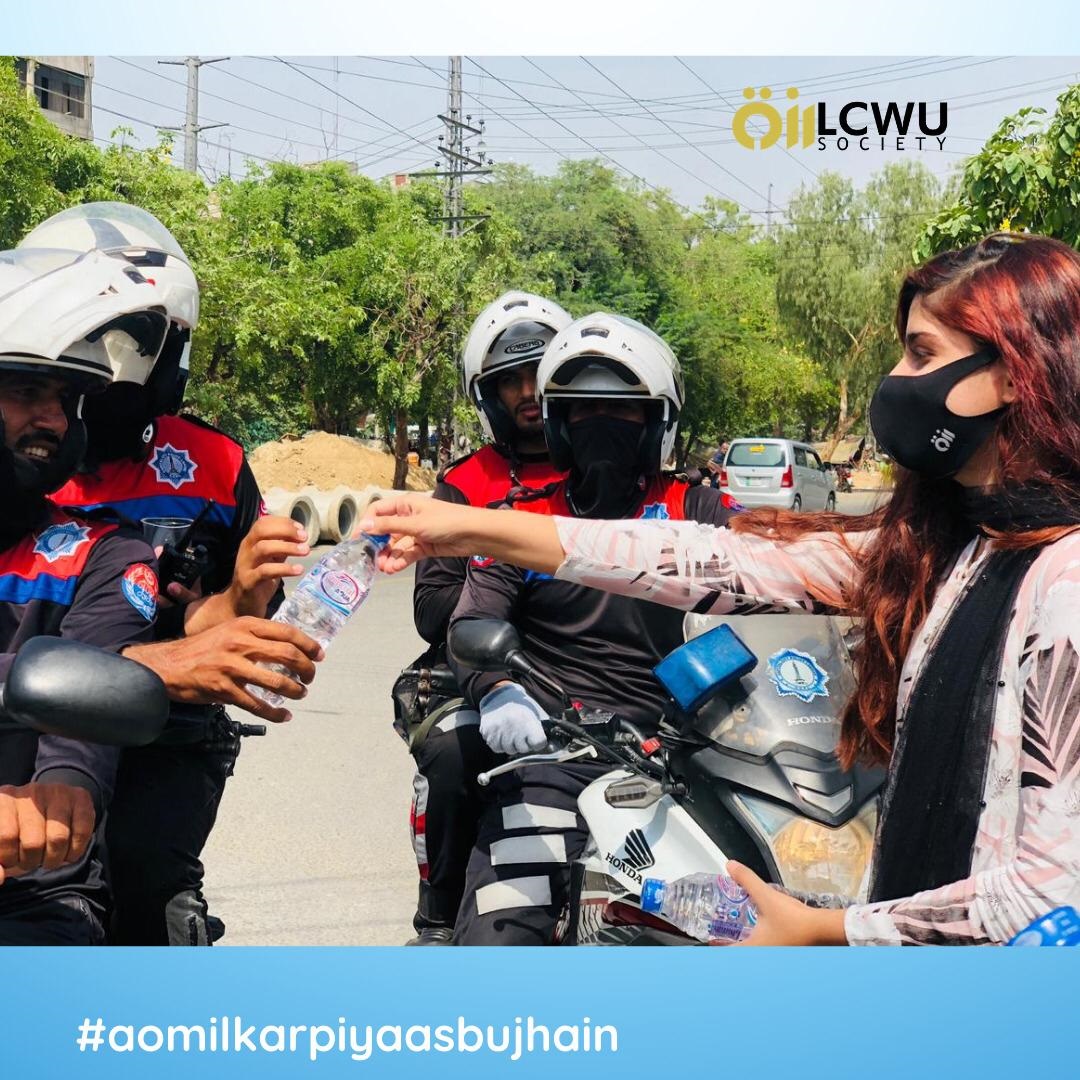 The team members of the RIZQ LCWU society distributed water bottles to traffic custodians and workers around LCWU as a gesture of goodwill and compassion for all. This activity took place between June 17 and June 22, 2021. The volunteers made an effort to spread positivity among those who had no choice but to work and endure the extreme heat in Lahore, Pakistan. The slogan was 'Aao Mil Ker Pyaas Bujhaean'. The water bottles were donated by the students and teachers of LCWU.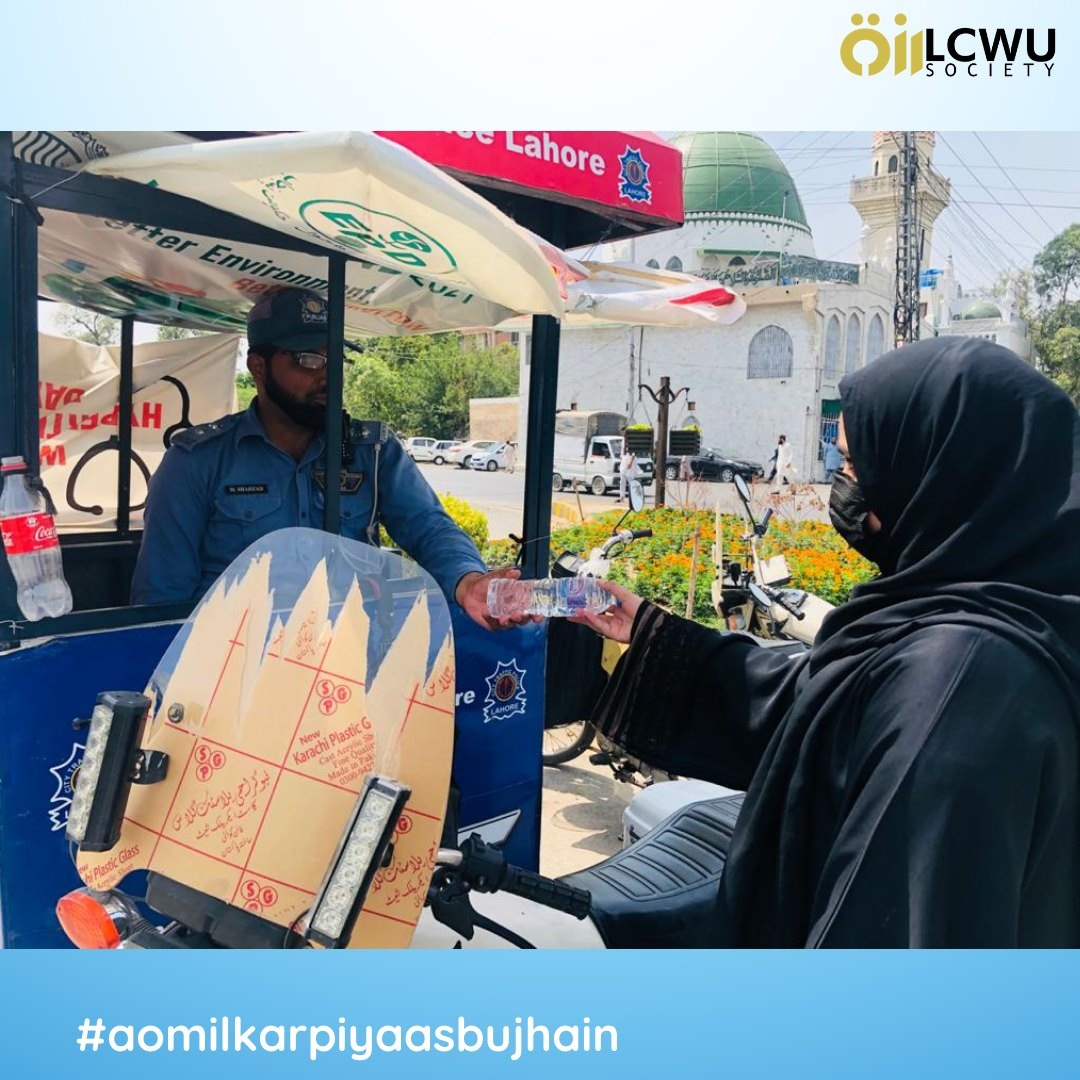 Launch of #InsaanBano Campaign
RIZQ LCWU Society launched its new campaign 'InsaanBano' on May 7, 2021.
The idea of this campaign was to raise awareness about social injustice and false ideologies. Throughout the campaign, team members and volunteers generated and shared humanitarian posts and messages on social media in order to stand up to injustice against those with less power. The campaign gained momentum and was highly appreciated by the students of LCWU. 
Distribution of Rations among LCWU Gardeners and Workers on Labor Day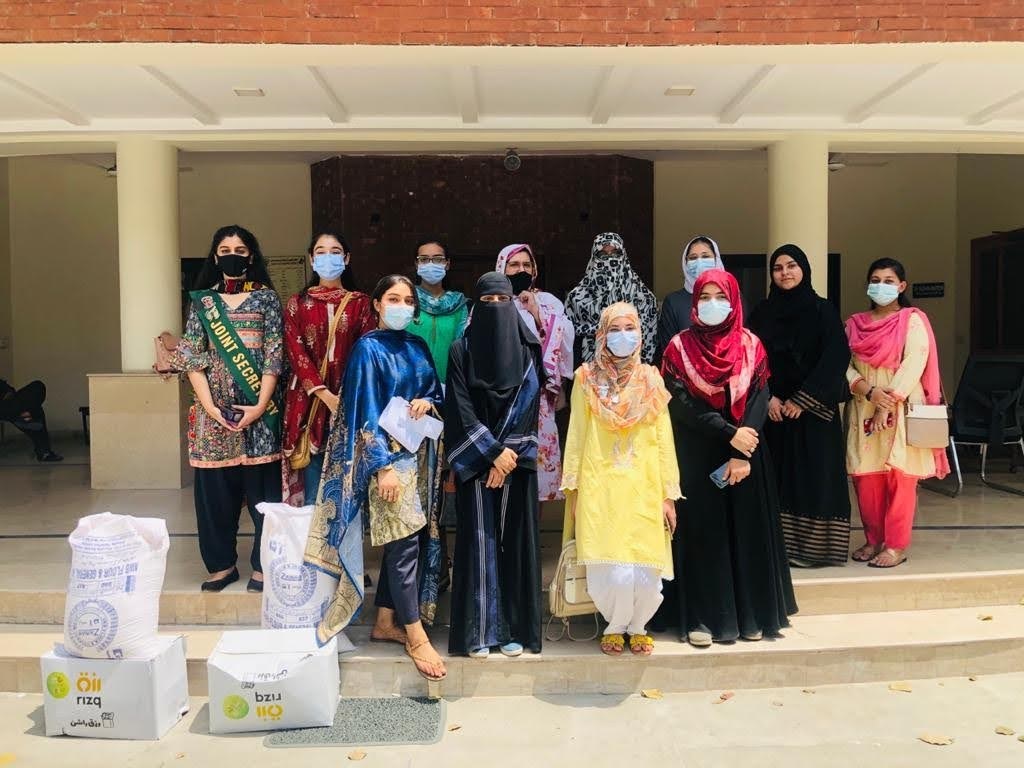 RIZQ LCWU Society distributed 35 ration boxes to the workers of the university on May 1, 2021. Shagufta Moghal, RIZQ LCWU Advisor, initiated and organised this distribution with the hard working team members of Rizq LCWU Society. The distribution was overseen by Dr. Asma Shahid Kazi from Department of Elementary and Teacher Education LCWU. RIZQ Enterprise sponsored the ration boxes which contained supplies for 6 family members of a deserving family. The distribution on campus was carried out under the supervision of the Directorate of Student Affairs.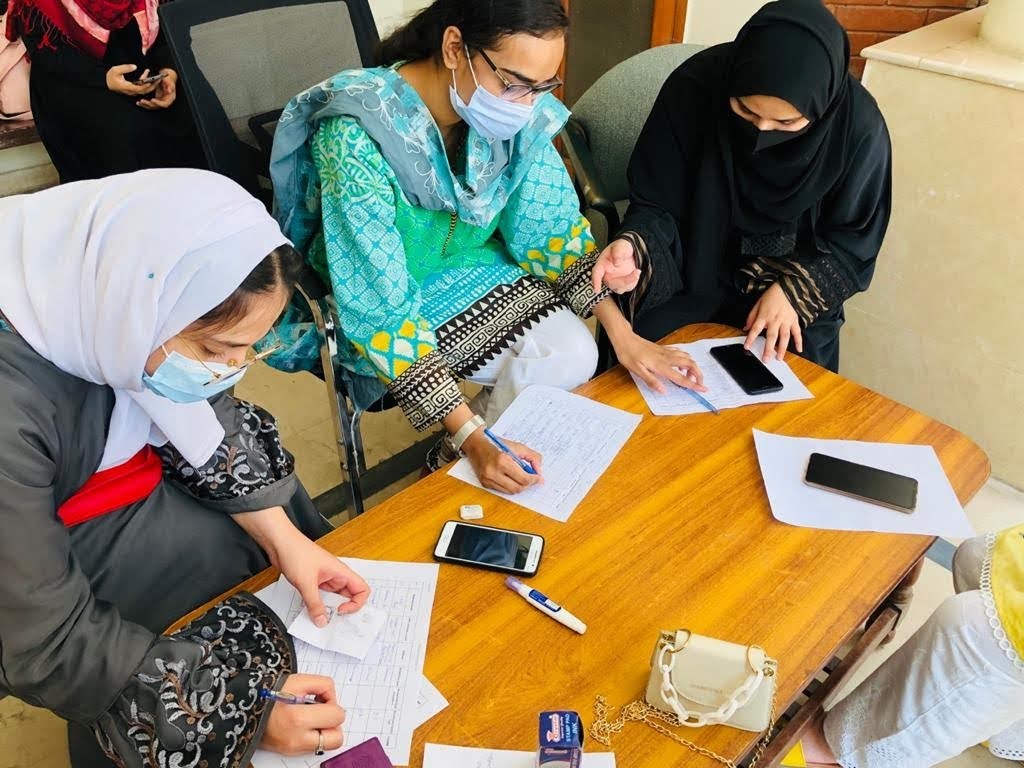 Distribution of Eidi among LCWU Guards and Non-Teaching Staff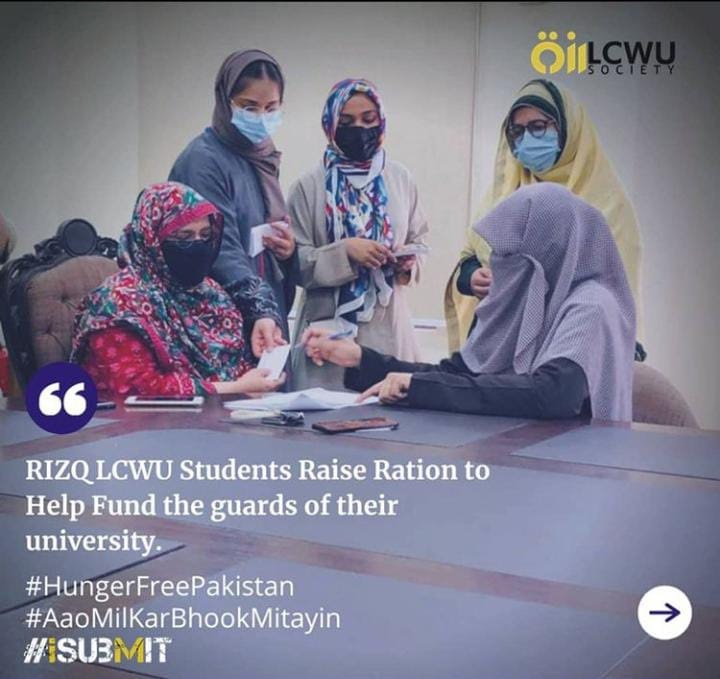 RIZQ Advisor Ms. Shagufta Moghal collected Eidi funds for LCWU's non-teaching staff under the supervision of Dr. Asma Shahid Kazi, Department of Elementary and Teacher Education and Directorate of Student Affairs. On April 26, 2021, each of 25 female guards and support staff nominated by various departments received Rs. 2000/-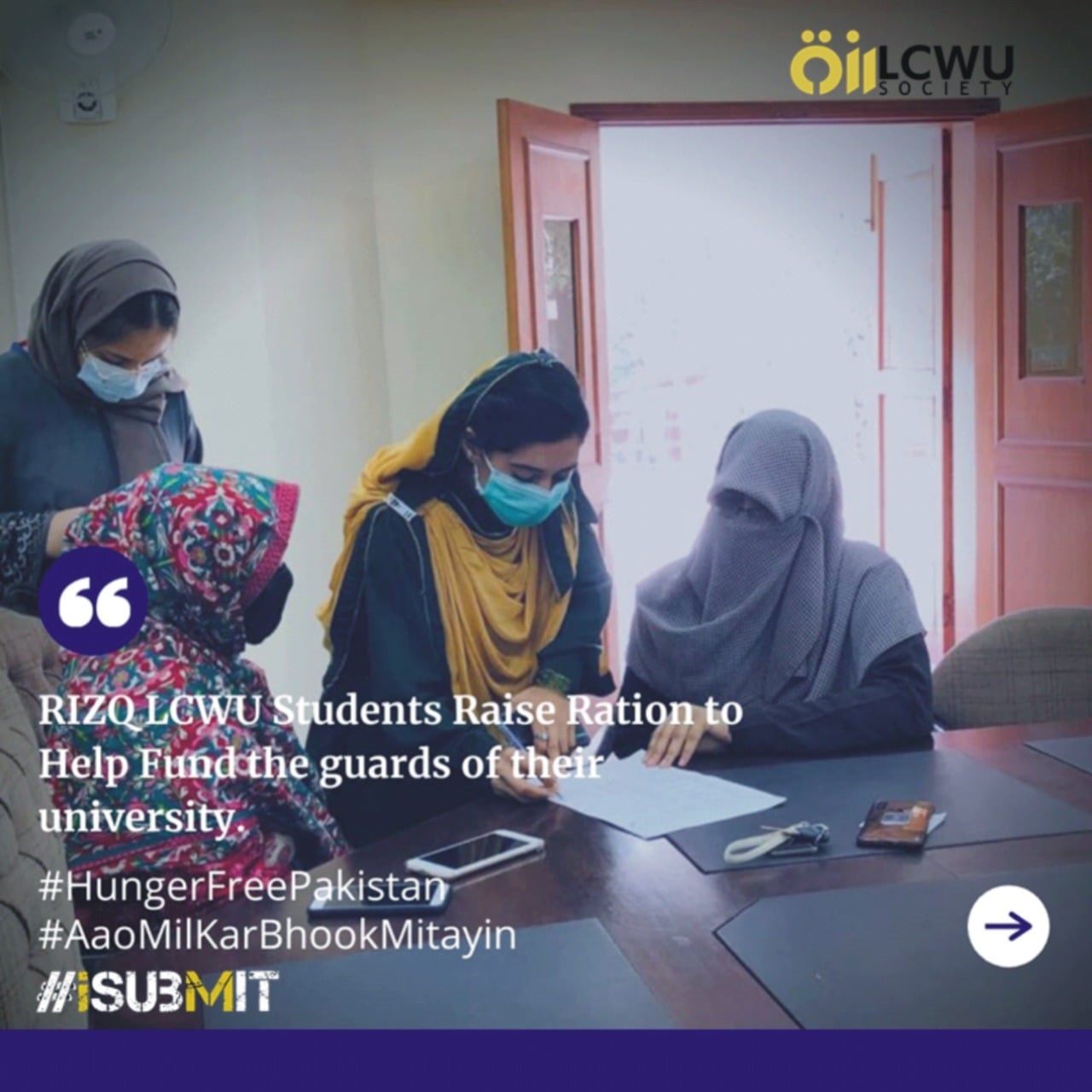 Webinar on 'Food Insecurities According to Marketplace Model'
RIZQ LCWU society hosted a webinar titled 'Food Insecurities According to Marketplace Model' on April 3, 2021. The guest speaker was Mr. Musa Aamir, previous TEDxLCWU Speaker and Co-Founder Rizq Enterprise. He addressed the pressing issue of food insecurity in the marketplace and provided actionable solutions for how the youth could help alleviate hunger and poverty in Pakistan.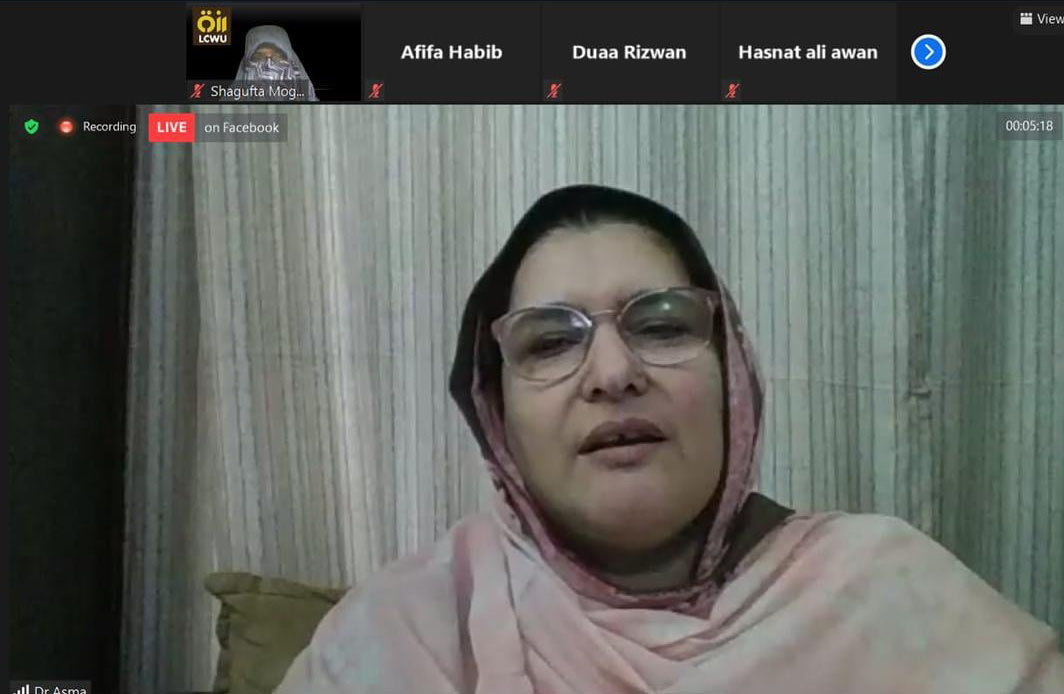 In the beginning of this webinar, Dr Asma Shahid Kazi advised the audience about the importance for food security and how it is connected with UN SDGs. After that Ms. Shagufta Moghal, Advisor Rizq LCWU Society briefly described the achievements of the RIZQ ASAP LCWU. These achievements and acknowledgements included Ramadan drives, donation programs, fundraising activities and student activism week.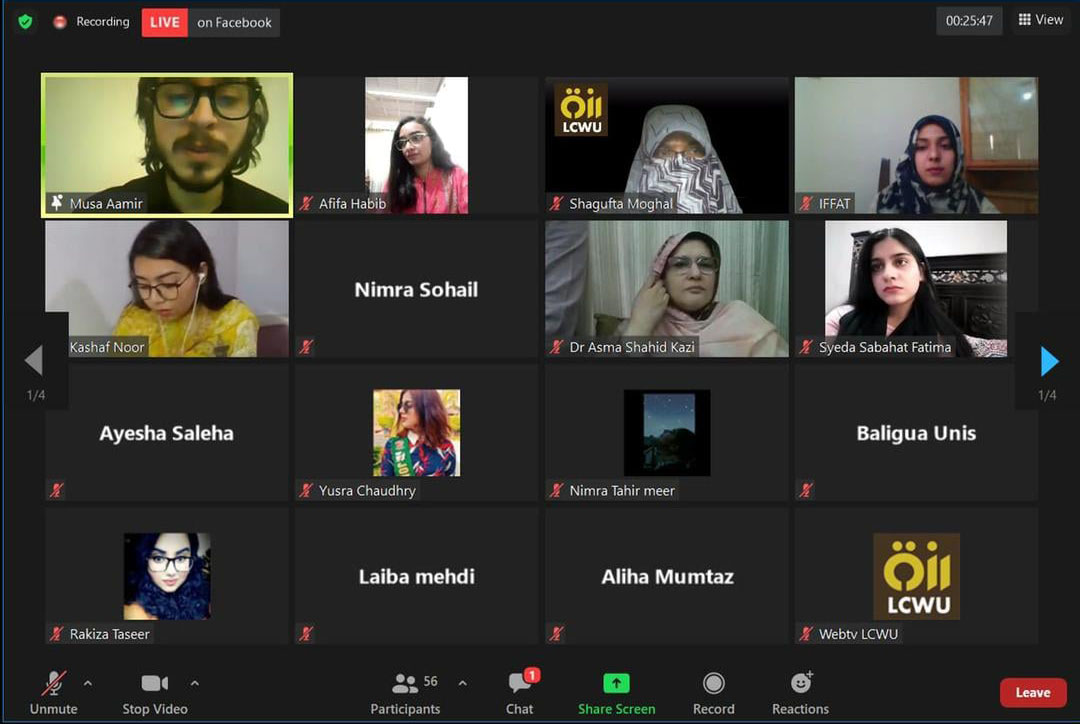 RIZQ ASAP LCWU is highly obliged to the Mass Communication Department LCWU, who facilitated and arranged to live streamed the webinar on Web TV.
Volunteering at Iftaar Distributions Throughout Ramadan 2021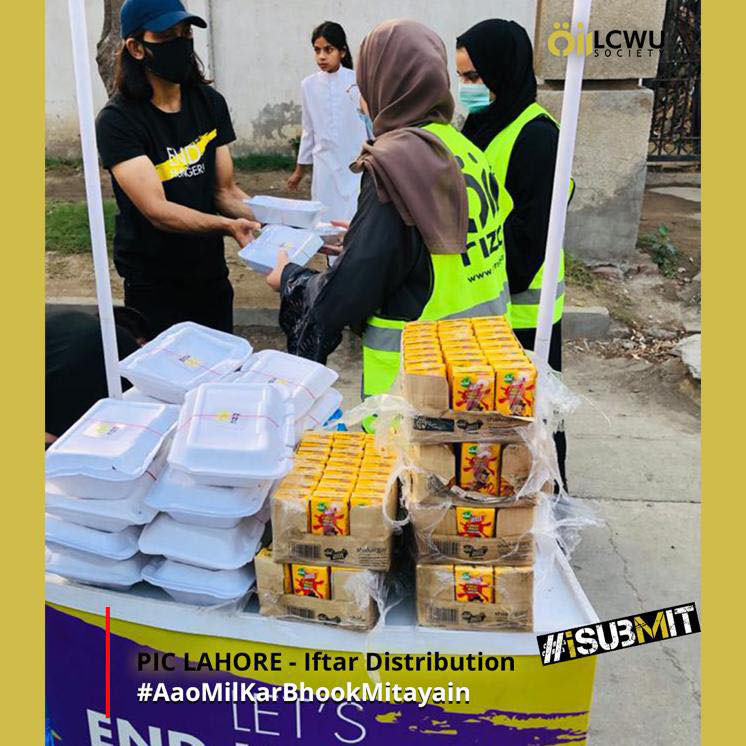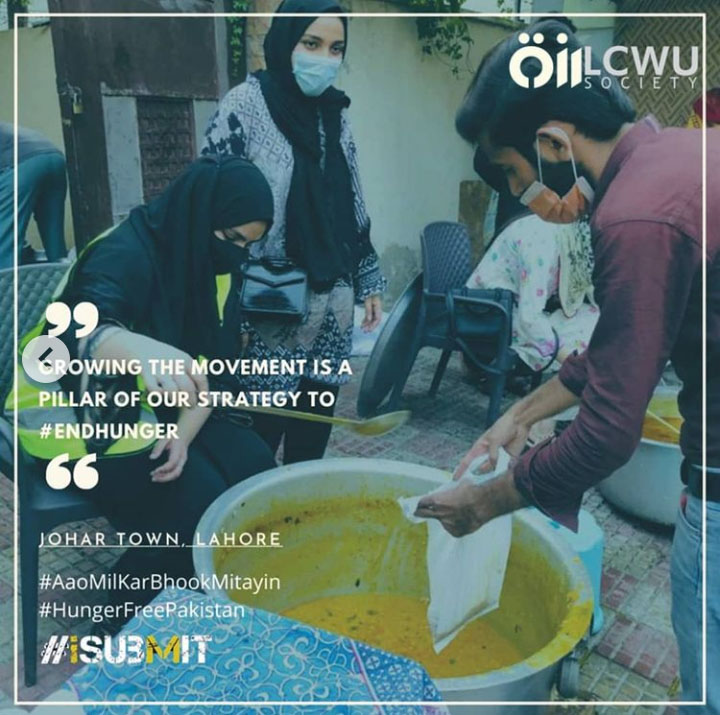 Volunteers of the RIZQ LCWU Society actively participated in Iftaar distribution activities all over Lahore during the blessed month of Ramadan 2021. Their dedication and work were appreciated by the Founders of Rizq Enterprise. Team members shared their satisfaction and sense of accomplishment when participating in these community service activities.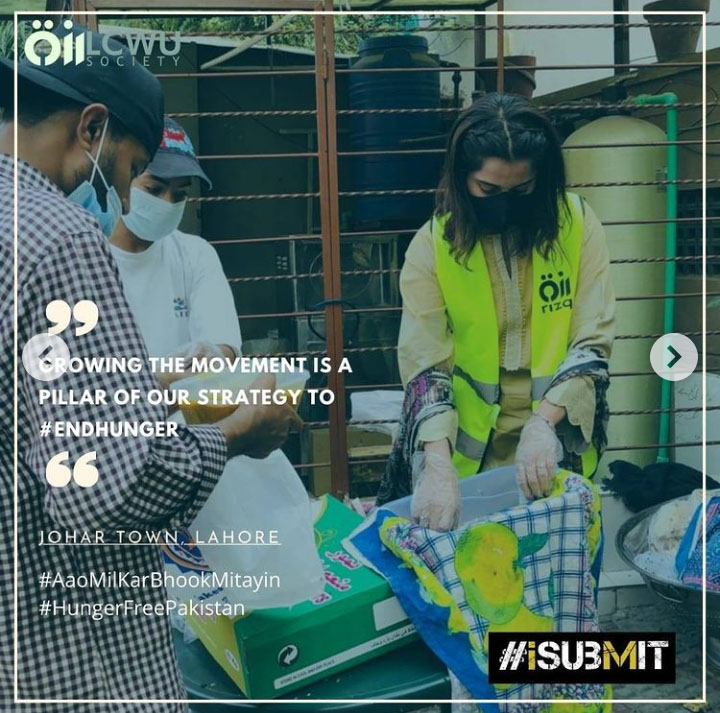 Campaign Titled 'Empowering Women in Samnabad to Become Self-Sustainable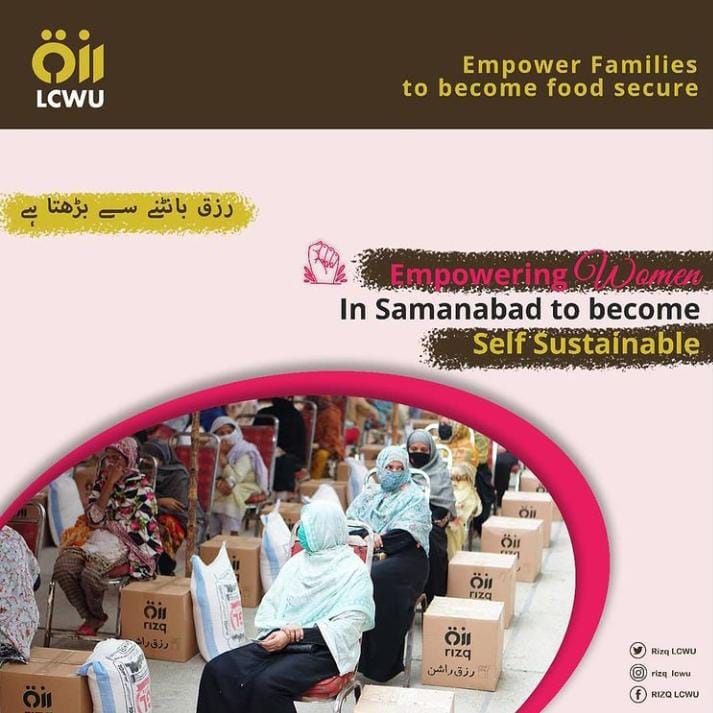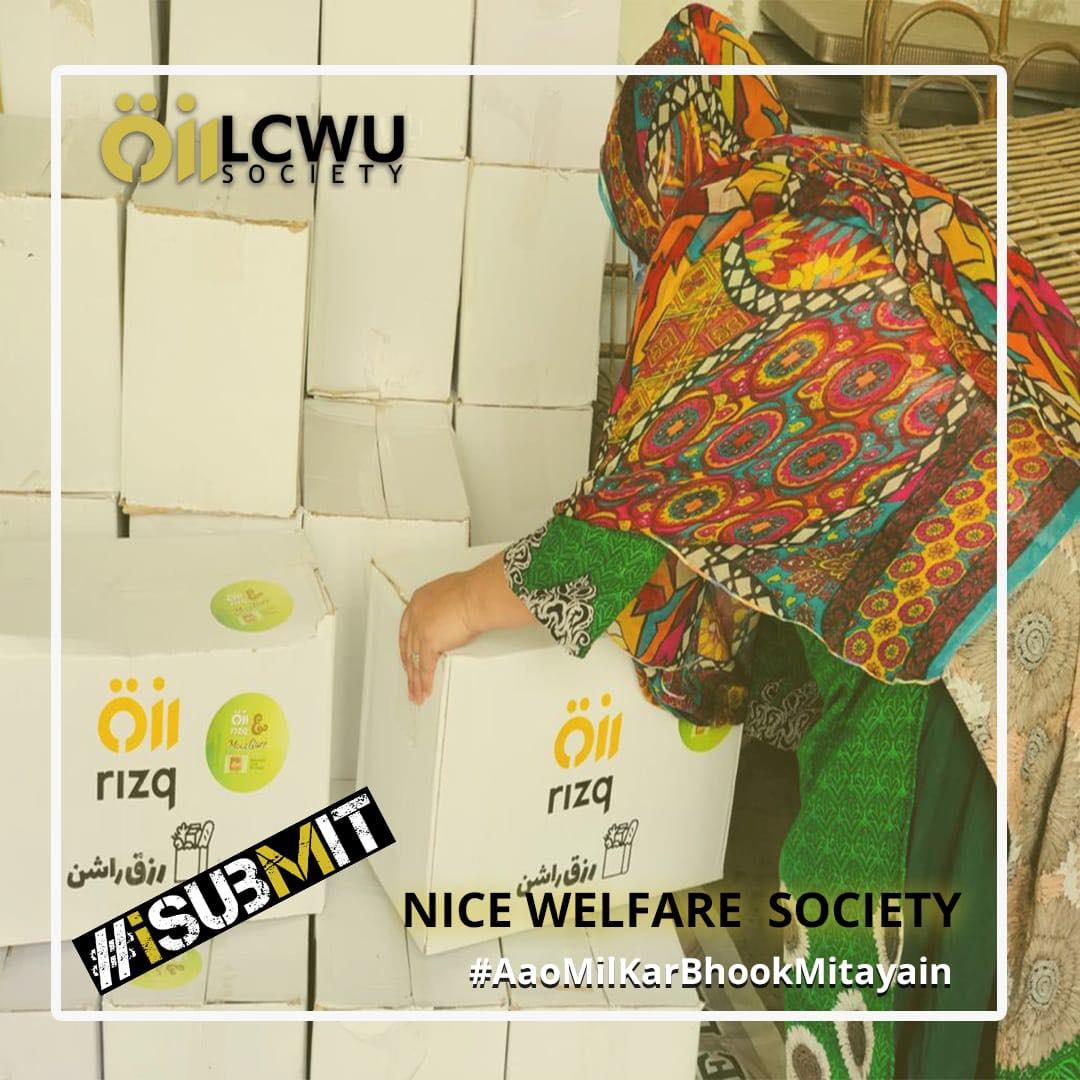 As another initiative taken in Ramadan 2021, RIZQ LCWU Society launched and completed the campaign titled 'Empowering Women in Samnabad to Become Self-Sustainable' on March 31, 2021. This campaign was created in partnership with the NICE Welfare Society. The campaign's slogan was 'Aao Mil Ker Bhook Mitaaen'. LCWU students and volunteers were extremely efficient in raising funds and assisting those in need.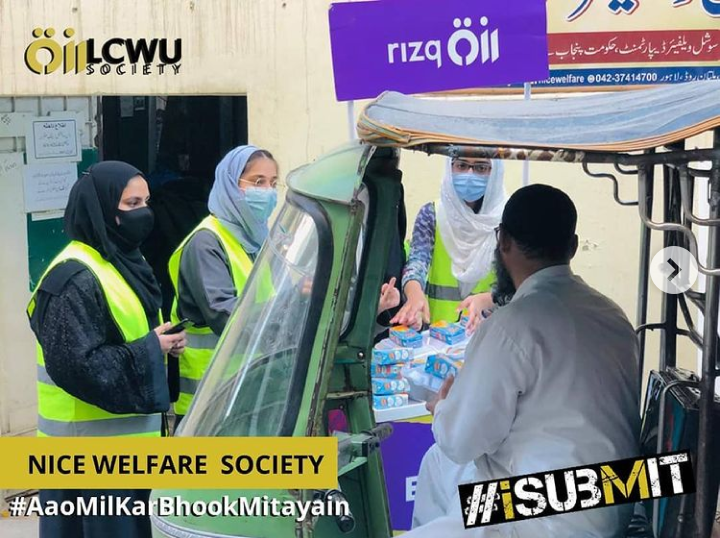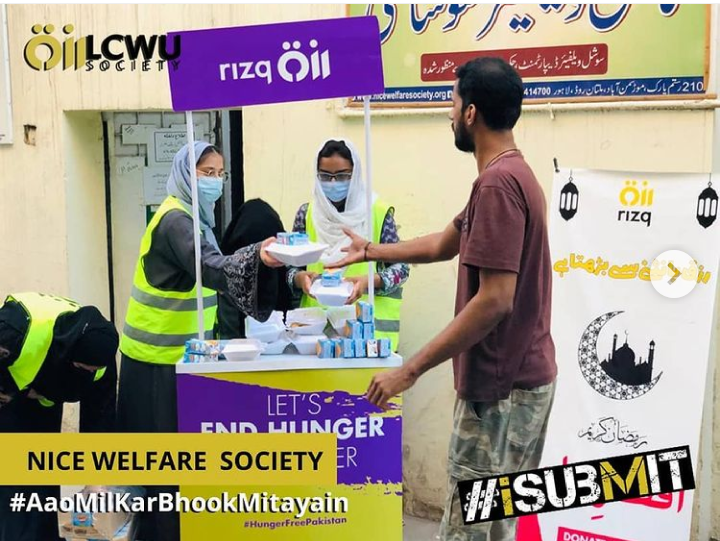 Social Responsibility Drive and Ramadan Campaign 2021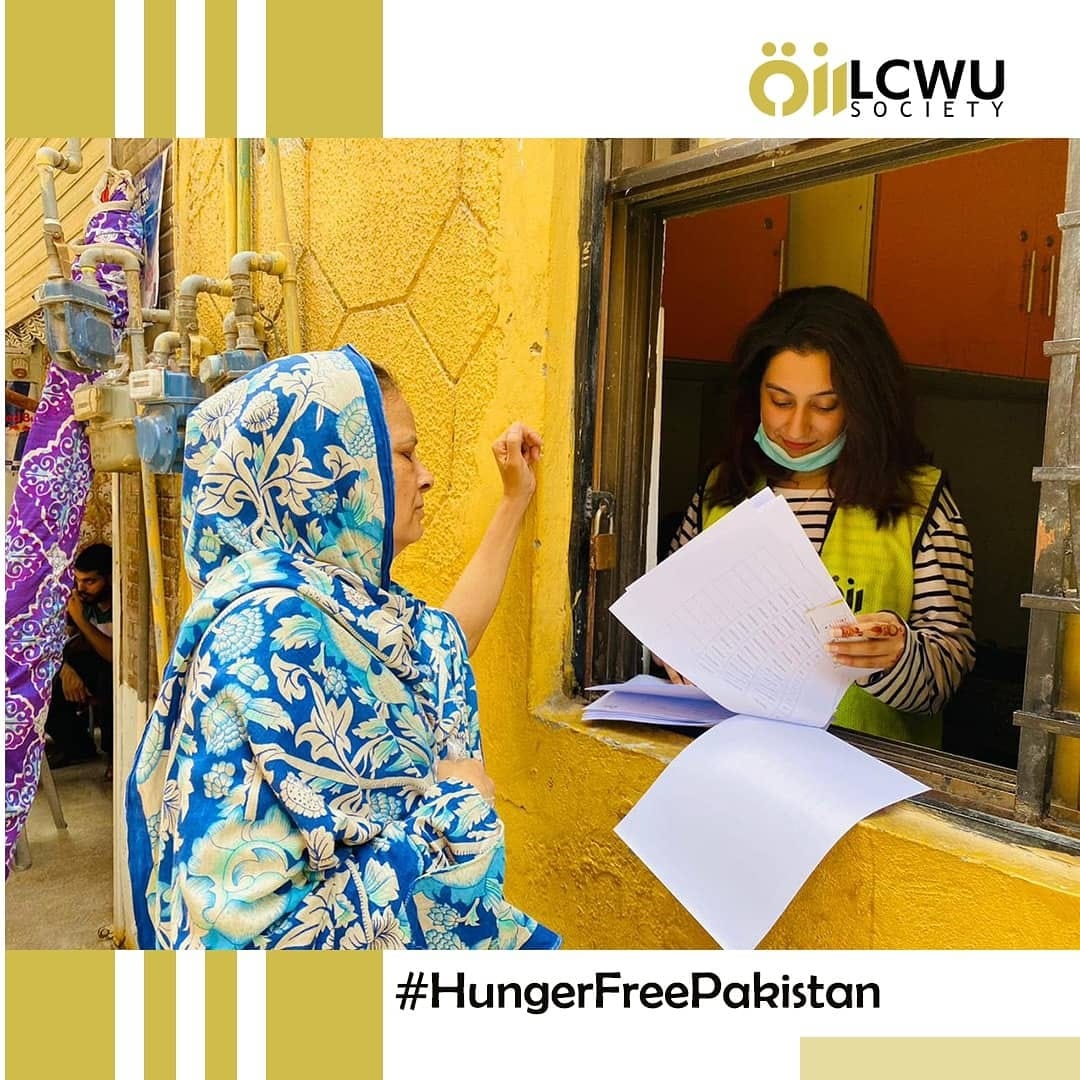 RIZQ LCWU Society launched its 'Social Responsibility Drive and Ramadan campaign' on March 19, 2021, till the end of Ramadan. The target of this campaign was to collect funds and distribute maximum rations and iftaar meals to deserving people, both inside and outside LCWU. RIZQ-LCWU Society completed its Ramadan campaign before the assigned time. The enthusiastic and hardworking team members managed to raise 328 ration packs; each ration pack was worth Rs. 3500. These rations were then distributed among the pre-allocated and shortlisted families all over Lahore.
Fundraising at Gulberg Galleria Food Fest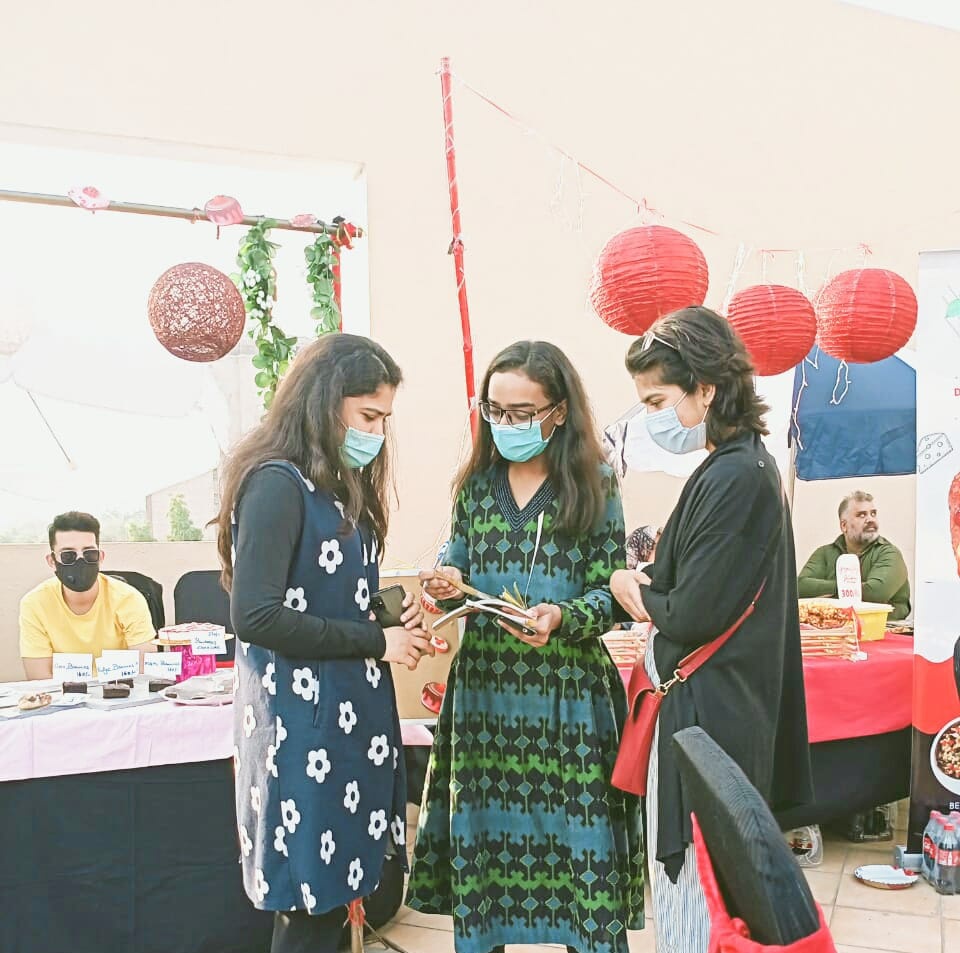 Volunteers from the RIZQ LCWU Society raised funds for hungry families in Lahore, Pakistan at the Gulberg Galleria Food Fest on February 27, 2021. Co-founder RIZQ Musa Aamir attended and supported the LCWU students who were performing community service. Faraz Khan, RIZQ Youth Mobilizer, tasked and oversaw the team.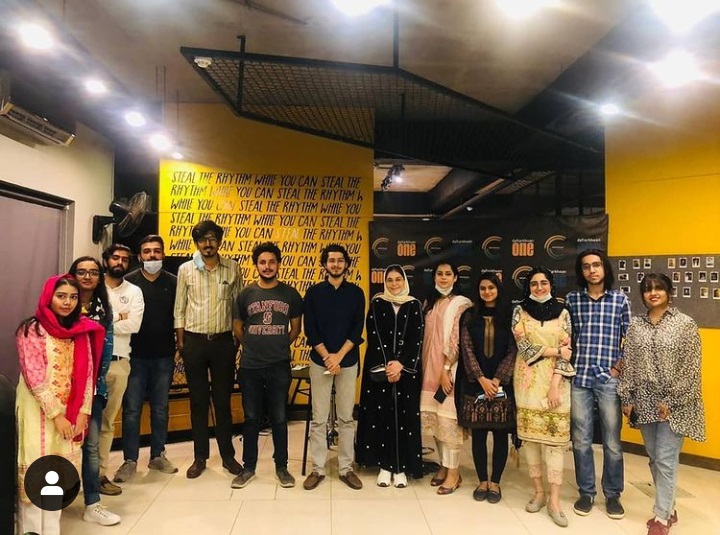 Ration Distributions at Samnabad Food Bank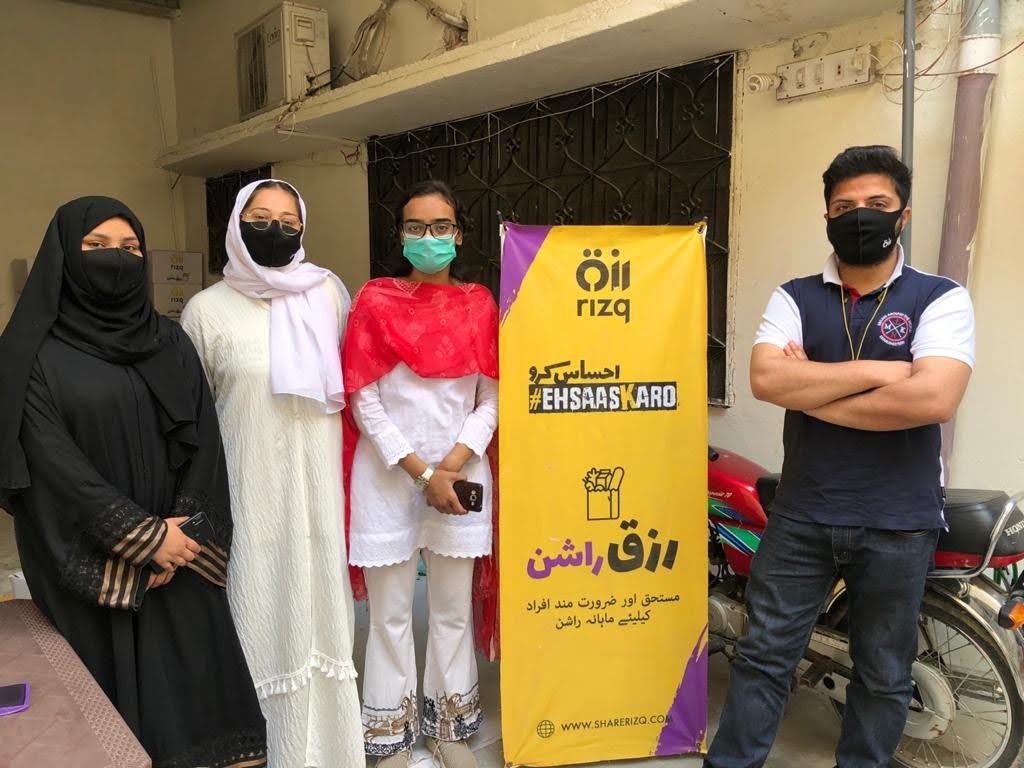 The Opening Ration Distribution of Ehsaas campaign was held in Samnabad Food Bank on February 8, 2021, where many deserving families came to collect their monthly ration packs. RIZQ LCWU Society team members were responsible for screening, verifying and delivering the rations to the shortlisted families. Subsequent ration distributions were organized regularly at the Food Bank after every fortnight.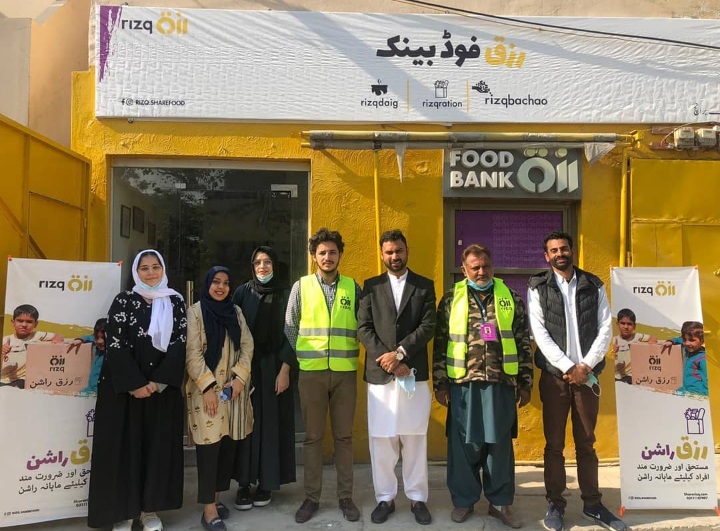 RIZQ LCWU Society Ration Drive Project 2021: 'Ehsaas Campaign'
On January 14, 2021, the RIZQ LCWU Society launched its 'Ehsaas Campaign.' From January to April 2021, this campaign aimed to provide 100 rations to deserving families within and around LCWU. The campaign was launched with the support of the notable Vice-Chancellor LCWU Prof. Dr. Bushra Mirza and was overseen by Dr. Asma Shahid Kazi and Ms. Shagufta Moghal, Advisor RIZQ LCWU. The RIZQ LCWU Society participated in the campaign by raising funds, organising, packaging and delivering food rations to the needy. Through online donations, the team raised a total of Rs. 163,850/-. The campaign was a huge success and the LCWU team came in second place in the Rizq Enterprise inter-campaign competition.
Gajumata Food Ration Distribution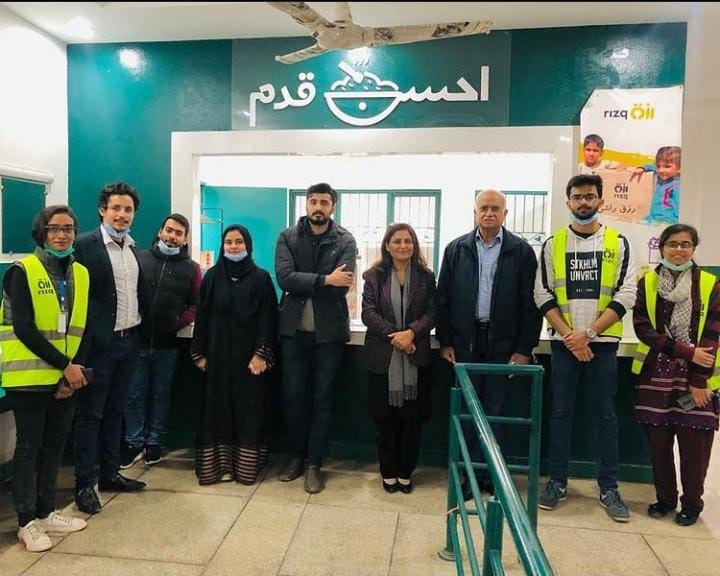 RIZQ LCWU Society in collaboration with RIZQ Enterprise and other donating individuals aimed to distribute food rations among 100 deserving families in the area of Gajumata on January 7, 2021. Team RIZQ collected and distributed rations, the verified status of deserving families and showed compassion towards the needy. It was a rewarding and learning experience for the compassionate volunteers of LCWU.