Year 2022
1st International Conference on Sustainable Development Goals (29th – 31st March 2022)
Under the patronage of the worthy Vice Chancellor, Prof. Dr. Bushra Mirza, the 1st International Conference on Sustainable Development Goals (ICSDG 2022) was organized by the Office of Research, Innovation & Commercialization (ORIC) and Directorate of Research, Lahore College for Women University, Lahore from 29th to 31st March 2022. The conference with the theme "Localizing SDGs through academia" focused on United Nations 2030 Agenda for Sustainable Development which covers a wide range of interrelated goals, including poverty eradication and economic growth, social inclusion, environmental sustainability and peace for all people by 2030. The conference was first of its kind in the history of LCWU with more than 20 academic departments of the university working simultaneously in addressing and managing the different themes. Rs. 3.5 million (in cash/kind) were raised as sponsorship from academia and industry for ICSDG 2022.
Prof. Dr. Zabta Khan Shinwari (distinguished national professor), Mr. Qasim Ali Shah (Author and motivational speaker), Mr. Mudassir Riaz Malik (Director general Social welfare Punjab) and Mr. Zaigham Mehmood Rizvi (Chairman Naya Pakistan) were the notable guests at the inaugural session of the conference and the closing ceremony was graced by Prof. Dr. Shahid Mahmood Baig (Chairman Pakistan Science Foundation). 

Year 2020

International Conference on Smart Plantation (2,3,4 March 2020)
The PTI government has allocated the amount of 300 billion rupees under agriculture emergency programme for increasing agricultural productivity and to deal with the complex climate change impact issues.

This was stated by Provincial Agriculture Minister Malik Nauman Ahmed Langrial while addressing the concluding ceremony of the three-day international conference "Smart Plantation: An ultimate solution to climate change" at Lahore College for Women University (LCWU) here on Wednesday.

The minister said that extensive tree-plantation campaign has been started in the province adding that urban and peri-urban forest policy has also been formulated by the PTI government for the first time in the history of the country. He stated that 10 billion trees tsunami project is an important step towards a durable solution of the global warming issue. He informed that one billion trees have been planted in KPK province to deal with climate change and environmental issues. Now, ten billion trees will be planted in the country in the next five years to overcome the negative impacts of climate changes, he said. The minister appreciated that Prime Minister Imran Khan raised a strong voice at an international forum for combating climate changes and this vision of Prime Minister Imran Khan has been fully lauded at international level. He told that tree-plantation is being done in Punjab province at a large scale under clean and green Pakistan campaign. Along with it, steps are also taken to protect the budding plants. He appreciated that holding of this conference is an important step to study and ponder over different facets of the climate changes by international experts. He asked the people to plant trees in their houses so that the number of trees could be increased. He impressed upon the students to play their active role in the success of clean and green Pakistan campaign as environmental pollution is causing different diseases. Pakistan is included in the list of countries which are badly affected by climate change and pollution, he maintained. It is, therefore, imperative to take effective measures to deal with climate change on a priority basis, he added.
VC LCWU Dr Bushra Mirza said that holding of such conferences help in research collaboration with international resource persons and their research will also be published which would include important recommendations for dealing with environmental issues and climate changes in Pakistan. She emphasized that more and more plantation is necessary to deal with smog and other environmental issues. Researchers from Canada, Turkey, USA, UAE, KSA, Nigeria, India and other countries attended the conference and presented their research papers. Chairperson Botany Dept Prof Dr Farah khan, Dildar Singh, Prof Dr Tahir Rashid, environmental experts, teachers and students attended the conference.
International Conference "NEW TRENDS IN NATURAL SCIENCES: PUBLIC HEALTH, FOOD NUTRITION AND SAFETY'
The department of Biotechnology and Zoology, LCWU organized three days International Conference "NEW TRENDS IN NATURAL SCIENCES: PUBLIC HEALTH, FOOD NUTRITION AND SAFETY' NTNS-II, 2018 FROM 24th – 26th October, 2018.  The main objective of the conference was to provide a platform to provide information about public health strategies and basic food practices both Nationally and Internationally and to motivate the participants to make positive changes that influence our common food related practices .

Delegates from USA, UK, Canada, Turkey, China, Iran, UAE attended the conference and presented their work. The event was attended by a large number of Participants from different institutes/universities from all over Pakistan as well as abroad. The main organizers Prof. Dr. Farkhana Manzoor and Prof. Dr. Shagufta Naz in their concluding Remarks thanked HEC and PHEC for giving funding to organize this mega event. The guests as well as participants appreciated the efforts of the organizers and congratulated the whole team in making this even a success.  


International Conference on "New Trends in Natural Sciences from Basics to Applied" (25th – 27th, 2017)
Department of Zoology and Biotechnology, Lahore College For Women University, Lahore jointly organized a three days conference on "New Trends in Natural Sciences from Basics to Applied". Large number of speakers presented their research work from different national and international universities such as University College, UK, University of Sheffield, UK, University of Mississippi, USA, Central California Tristeza Eradication Agency, USA and Convance Laboratory, USA. Speakers talked about their outstanding research findings both in the field of basic and applied biology. Chairman of Punjab Higher Education Commission, Prof. Dr. Nizam-ud-Din addressed the inaugural session and appreciated the scientific and professional achievements of both departments. More than 600 participants all over the country attended the conference and made it a huge success. Vice Chancellor, LCWU Prof. Dr. Uzma Qureshi appreciated the efforts of Head of Department of Zoology, Prof. Dr. Farkhanda Manzoor, Director Research, Prof. Dr. Shagufta Naz and their faculty for taking this initiative in promotion of science and university.  


International Conference on Global Gender Perspective November 14-16, 2016
The Department of Gender & Development Studies, Lahore College for Women University in collaboration with the Global Gender Program of The George Washington University, USA, organized a three day International Conference on Global Gender Perspective from November 14 to 16, 2016

This conference brought together leading academics social scientists and researchers to exchange and share their experiences and research finding on important aspects of Gender and Development Studies. More than 100 national and international presenters presented their papers in the conference. Participants from USA, UK, Sweden, Germany, Norway, and Nepal also presented papers in conference. Dr. Jane Henrici, Lecturer Global Gender Program, George Washington University,  Dr. Kelly Pemberton, Associate Professor of Religion and Women's Studies, George Washington University; Dr. Lionel Howard , Assistant Professor,  Educational Research, George Washington University and Dr. Faiza Ali ,Senior Lecturer, Liverpool Business School , John Moores University also presented their papers. Lesli Davis, Program Officer, George Washington University shared the message of  Dr. Barbara Miller, Professor of Anthropology & International Affairs, George Washington University at the panel discussion. Michael Clark, Adjunct Professor George Washington University also participated in the panel discussion at the conference. Ms. Savitra Shreshta from Nepal, Ms. Zille Zahra Naqvi, Dr.Lena Martinsson & Dr. Erika Alm from Sweden presented their recorded papers. 
Students and faculty from Punjab University, COMSATS Islamabad, University of Peshwar, International Islamic University, University of Sargodha, Beaconhouse National University (BNU), NUST, GCU Lahore, NIP Quaid-i-Azam university, Foundation university Islamabad, FC College,  Lahore College for Women University and LUMS participated in the conference. Additionally, professionals from FATA Research Center and advocate of Lahore High Court also presented in the conference.  
Chief Guest Begum Zakia Shahnawaz, Provincial Minister for Higher Education and Population Welfare, highlighted various actions taken by the Government of Pakistan for promotion of gender equality. She appreciated the efforts of GWU and LCWU for holding a well-organized and successful conference. She added that such opportunities help in bringing together leading academic social scientists, researchers and research scholars for exchanging experiences and research results on important aspects of Gender and Development Studies.
 
The Vice Chancellor LCWU, Prof. Dr. Uzma Quraishi, in her closing speech admired and praised the team of Women Institute of Leadership and Learning for incorporating what was envisioned for the conference. It has been the first event of its nature and magnitude in Pakistan in the field of gender studies. This conference is a milestone towards getting better understanding of cultural constructs and social inequalities, which consequently leads to the possibilities of greater collaboration between countries. 
While speaking at the closing ceremony, Prof. Dr Sarah Shahed, Director Women Institute of Leadership and Learning, said that this conference has opened new horizons for new researchers to explore and understand the contemporary gender issues from multiple perspective. She also extended her gratitude to all speakers, national and international guests and scholars. Prof Dr Shaista Khilji, Professor of Human and Organizational Learning & International Affairs, George Washington University in her closing remarks stressed on importance of future collaboration for sharing and better understanding of global gender dynamics.
 
Dr. David Gow, Baker Emeritus Professor of Anthropology and International Affairs, George Washington University; Dr. Ruhi Khalid , Director Institute of Psychology, Beaconhouse National University ;Brig (R)Dr. Tanvir Akhtar, Head of Department Psychology /Director Students' Counseling, Foundation University, Rawalpindi; Dr. Misbah Tanveer, Assistant Professor, School of Business and Dr. Amen Jaffer ,Assistant Professor Sociology from Lahore University of Management Sciences; Dr. Salma Hassan, Associate Professor, Psychology Department and  Dr. Syeda Shahida Batool, Chairperson Department of Psychology, Government College University; Prof. Dr. Anila Kamal, Director National Institute of Psychology, Quaid e Azam University Islamabad; Dr. Grace Clark ,Professor Sociology and former Dean of Social Sciences, Forman Christian College; Prof. Talat Sohail,  Chairperson, Department of Applied Psychology, Lahore College for Women University; Mr. Salman Abid , Regional Head, Strengthening Participatory Organization, Lahore ; Mr. Daud Saqlain ,Head of Programs ActionAid Pakistan; Ms. Neelum Hussain ,Executive Director, Simorgh Pakistan and Ms. Wilma Van der Maten, Journalist, Correspondent Elsevier (Pakistan) chaired sessions in the conference.
1st International Educational Conference
1st International Educational Conference, hosted by the Institute of Education, Lahore College for Women University was held at the Royal Palm Golf and Country Club in Lahore on 2nd Nov 2016. The conference addressed the theme of "Building Knowledge Competencies for Sustainable Development in Asia: Achieving the Goals of Life Long Learning". Vice Chancellor Lahore College for Women University, Prof. Dr.Uzma Quraishi in her inaugural address emphasized that to achieve Sustainable Development, we need to change the way we think and act. This can be made possible through quality education and learning for sustainable development at all levels and in all social contexts. 
The conference intended to address the objectives of identifying certain areas of knowledge convergences which are conducive for making United Nation's identified knowledge competencies work in the Asian context and beyond. It addressed three key areas upholding the cause of UN's call for an inclusive and equitable quality education for sustainable development. 
These themes among others were the topics of the keynote speakers Prof. Dr. Saeeda Shah, University of Leicester, UK, Prof. Dr. Mohammad Memon, Agha Khan University, Pakistan, Prof. Dr. Munawar Sultana Mirza, Leads University, Pakistan and Dr .Naim Syed, Associate Assistant Vice President at University of Connecticut Health and Janet Syed, Merrimack College, USA, Dr. Sazali Bin Yousoff, Director, Institute of Teacher Education Malaysia and Dr. Siti Salina Binti Mustakim, Institute Aminuddin Baki, Ministry of Education, Malaysia. Distinguished guest Mr Kamran Lashari also addressed the youth and encouraged them to explore various facets of life and extend their learning beyond classrooms.
 
The three day international conference drew a large number of students and faculty countrywide and from across the continents, encouraging detailed deliberations on developing sustainable knowledge competencies of communication, creativity, critical thinking and collaboration for life-long learning and how universities should play their role in policy decisions, and lead the way towards sustainable education. 
 
Three Days Conference( from 10-12 November, 2015)
Persian department in collaboration with Dabistan-e-Iqbal and Iran Culture Centre, Lahore organized a three day conference (from 10-12 Nov, 2015) on the completion of 100 years of Iqbal's epic book  Asrar-e-khudi. Deaprtments of Political Science,Gender Studies and Institute of Education, LCWU also collaborated with the Persian department in organizing this conference. On the 1st day a declamation contest was held among the students of LUMS, GCU, PU, LCWU and other institutions at Alhamra Arts Council. Two sessions were held on the second day at the Student Service Centre, LCWU. The morning session started with the recitation of the Holy Quran. In this session various eminent personalities of Iran like Mr.Ali Akbar Barkhurdari (Director General of Iran Culture Centre, Lahore) Mr.Eisa Karimi (Councellor general of Iran in Islamabad) and Allama Iqbal's family members like Mr. Iqbal Salah-ud-din(President Dabistan-e-Iqbal), Mr.Muneeb Iqbal(Vice President Iqbal Academy) and Justice (Rtd) Nasira Javeed Iqbal expressed their views about Asrar-e-khudi.Two famous Iranian poets Mr.Kumsari and Mr. Abdul Jabbar Kakai also graced the conference with their presence. Dr.Faleeha Zahra Kazmi, Head of Persian department, LCWU, presented her welcome address and thanked the honorable guests. Professors from different Universities and Colleges also presented their research article on Iqbal's poetry and philosophy in the conference.
After the lunch the audience enjoyed the group performance of Persian department's students on Iqbal's poetry which was presented with music. A tablow was also presented by them on Iqbal's poem "Insan aur Bazm-e-Qudrat" taken from "Bang-e-Dara". The audience appreciated the performance of the students and was very much amused. At the end of the session Dr.Uzma Qureshi Worthy Vice Chancellor LCWU thanked the guests, appreciated Persian department's effort and expressed her views about Iqbal and his poetry that Iqbal is   no doubt a thinker, philosopher and poet of International fame and his philosophy of "khudi" i.e., "one's knowledge of his own hidden potential "specially addresses the young generation then she awarded shields to the speakers and guests. On the third day Professors of Political Science and Education department presented their research articles on different aspects of Iqbal's poetry. 
Students of Political science and education department also presented their articles on Iqbal and recited Iqbal's poetry in group and amused the audience. Last day of the conference also included a "Ghazal Night" held at Iran Culture Centre, Lahore in the Honour of Iranian poets. Dr.Safa Kazmiyan and some Pakistani poets, Scholars and students such as Dr.Syed Akram Shah Ikram, Prof Dr.Muhammad Nasir, Prof Dr.Iqbal Shahid, Dr.Faleeha Zahra Kazmi, Ms.Shabana Sahar, and Ms.Rabia Asif presented Persian poetry which was very much liked by both Irani and Pakistani audience. Closing session was followed by a very delightful Irani Pakistani dinner.
International Conference on Language Science
"International Conference on Language Sciences and Developing World has opened the new horizons to provide a foundation to the Stakeholders for an effective policy formation regarding languages and linguistics in the developing countries", a message of the Chief Guest Governor Punjab delivered by Dr. Khaliqur Rehman, VC Government College University on the occasion of First International Two days Conference at LCWU (11th Jan, 13-12th Jan, 13).

While addressing to the Occasion Dr. Sabiha Mansoor said there is a dire need of appropriate and focused work on language in Pakistan. The main objective of the Conference is to compile a book containing the work of the participants of the conference which in result will help the policy makers in reforming the curriculum. Moreover she said that 23 papers will be presented in this conference and foreign delegates from more than 12 countries are presenting their papers as well.

"Pakistan is a Multi-Linguistic State, there shall be a critical evaluation system for the linguistics in order to teach them well. Whereas we should consider the application of Language sciences in the context of law, crime prevention, health , cvil services, sciences, defence and national security", was the message by Imtiaz Huaasin Gillani, Executive Chairman HEC was delivered by the Convener of the Conference.

Dr. AhmerMahmoob the Co-convener of the conference from University of University, Australia presented one of his papers with the title "language sciences and the developing world". He said that the experts associated languages need to explore and hegemonies the relationship between minority and disadvantaged language to the dominant languages and consider the opportunities of development and development for the speakers of these languages. 

The VC Panel discussion was chaired by Dr. Samina Kardar , VC Fatima Jinnah Women University including Dr. Sabiha Mansoor, VC LCWU, Dr.  Nizam VC, Gujrat University and Dr. Khaliqur Rehman, VC GCU as panellists.

Prof Dr. Naz Rasool , The University of Reading presented her paper on "Making Language policy Choices for social development in 21st century :dilemmas and possibilities", said that developing countries throughout south Asian region have rich linguistic heratige that remains underutilized In the educational process. 
Events
26th August 2022: Dr. Shoaib Akhtar, Director ORIC FJWU Rawalpindi along with his ORIC and BIC team, visited LCWU, held meeting with ORIC LCWU and met the worthy Vice Chancellor Prof. Dr. Bushra Mirza. Roadmap of establishing and furthering Business Incubation Center (BIC) was discussed.

1st July 2022: Under the MOU signed with HBL, ORIC LCWU in collaboration with Computer Science, Electrical Engineering and Management Sciences organised a session on career counselling and job prospects in the banking sector for senior year students. The resource person for this career talk was Sara Beg. She is working at HBL as Head Talent, Diversity & HR Relationship Management. Sara Beg guided the students on different career paths in the banking sector and the internship/recruitment processes.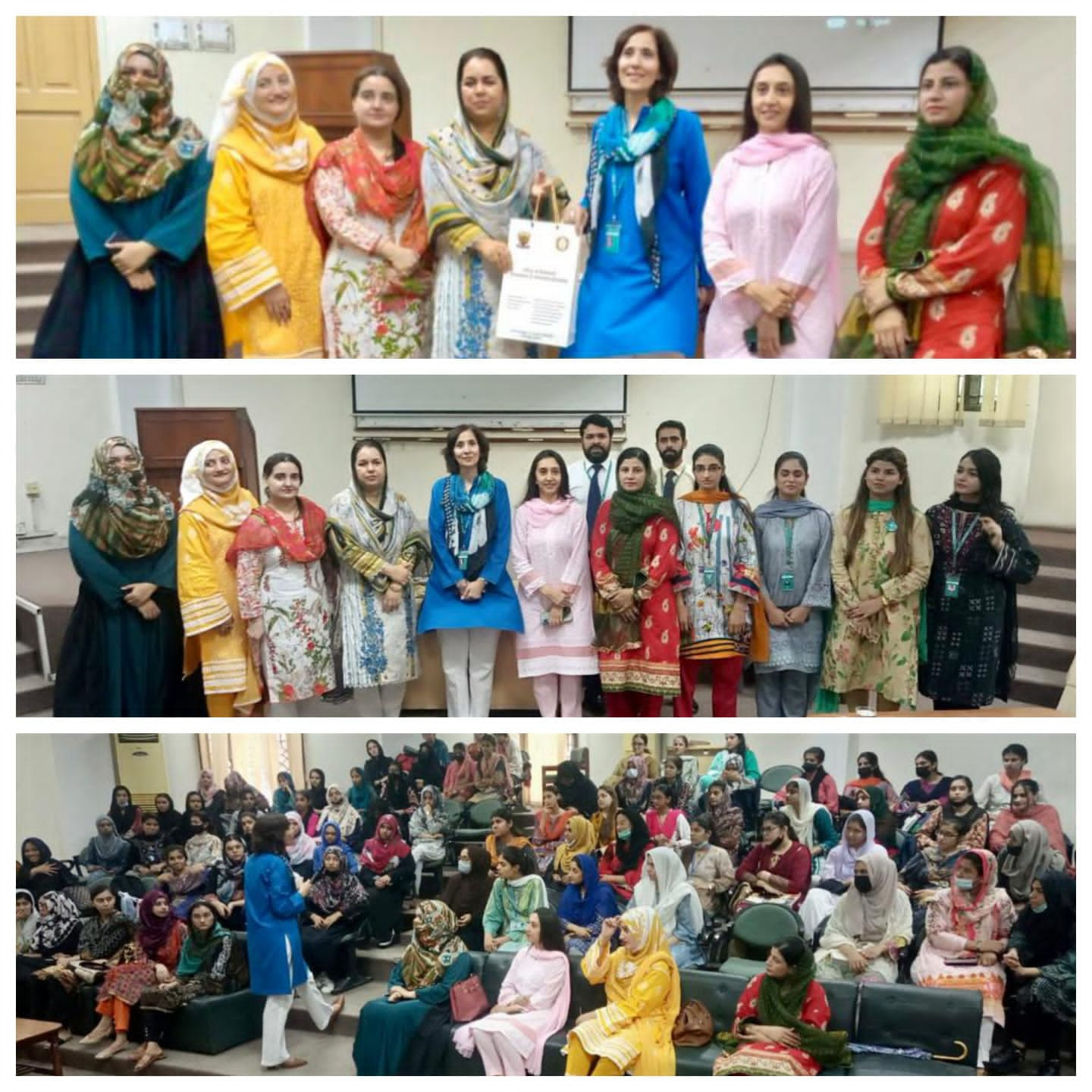 Awareness on HBL's customised service "HBL Nisa" which is a dedicated platform for women was also given. The session was informative and was well received by the students. A number of Students's queries were also addressed by the HBL team.
The session was organised and moderated by Senior Manager ORIC, Dr. Nudra Malik and faciltated by the CODs Dr. Saima Farhan, Dr. Sadia Murawwat and Dr. Muhammad Fiaz.
25th May 2022: ORIC hosted Prof. Dr. Luis Fernando Alday, Rouse Ball Professor of Mathematics at University of Oxford and Director ORIC VUP Dr. Arshad Hussain Hashmi, for an interactive session with faculty of Mathematics Department and a meeting with worthy VC Prof. Dr. Bushra Mirza, accompanied with COD Physics Prof. Dr. Zohra Kiyani, COD CS Dr. Saima Farhan and COD Mathematics Dr. Maria Hussain.
9th May 2022: British Council Area Director Sindh, Balochistan and Punjab, Michael Holgate visited LCWU and met the Vice Chancellor Prof. Dr. Bushra Mirza to discuss the British Council awarded projects to LCWU. Ms Sara Pervaiz from British Council was also present. Director ORIC Dr. Aqsa Shabbir briefed the delegation about the progress of her two projects; the STEM Education project and Combating Deforestation Using Wireless Sensor Networks. Dr. Sumera Noreen also discussed the progress of her British council funded Scouting project. Areas of mutual interest, including academic and research collaboration with UK universities and British Council's engagement with LCWU were discussed. Prof. Dr. Bushra Mirza emphasized the need to further strengthen this collaboration between British council and LCWU to enhance the success of research projects in various disciplines.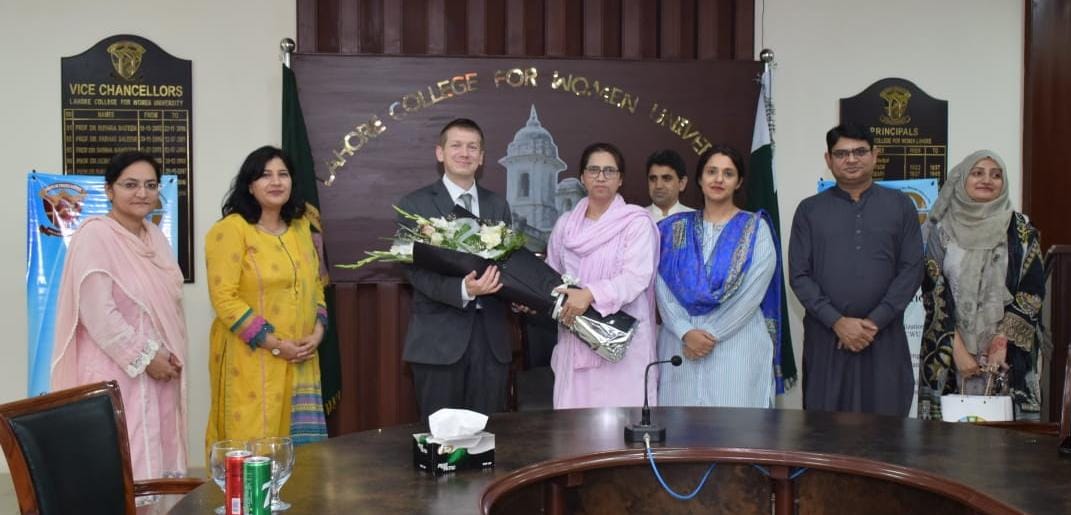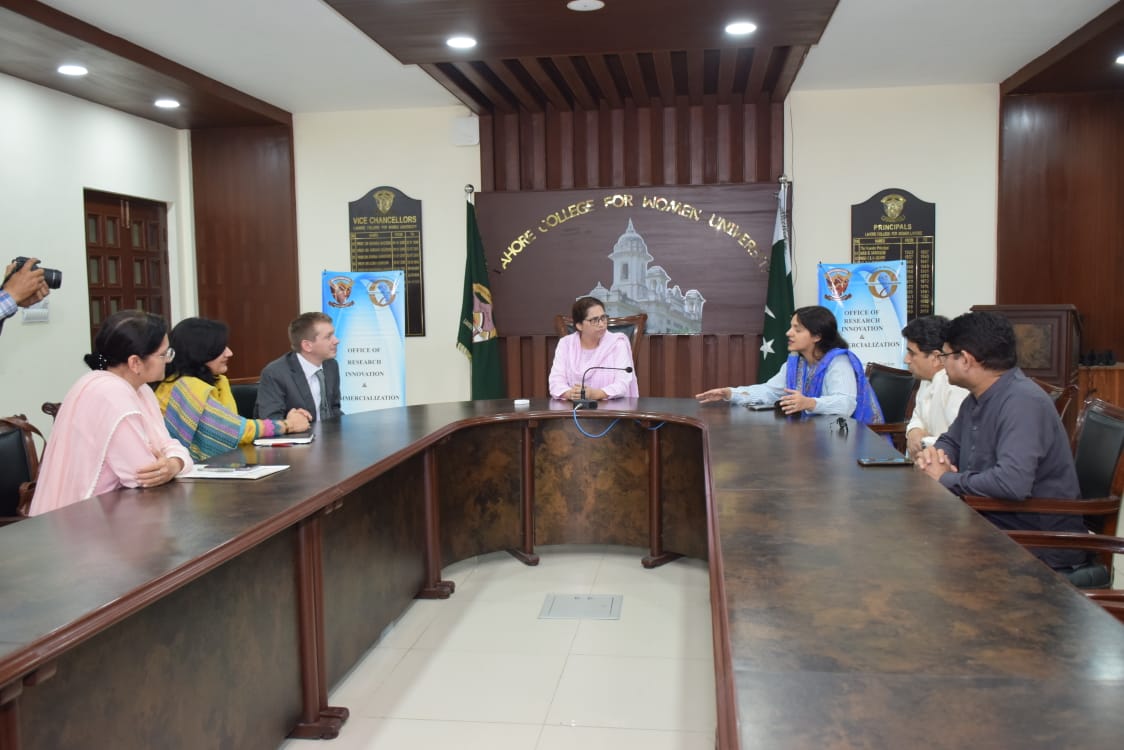 March 2022: ORIC' s Roundtable was held under SDG 9 and 17 with a focus on improving industry academia linkages and commercialization of research. VC UVAS Prof. Dr. Nasim, Eminent members of LCWU research and innovation board Mr. Qasim Ali Shah and Madam Tehmina Saeed presided over the meeting moderated by Scientific Chairs for SDG 9 and 17: Dr. Aqsa Shabbir and Dr. Saima Farhan.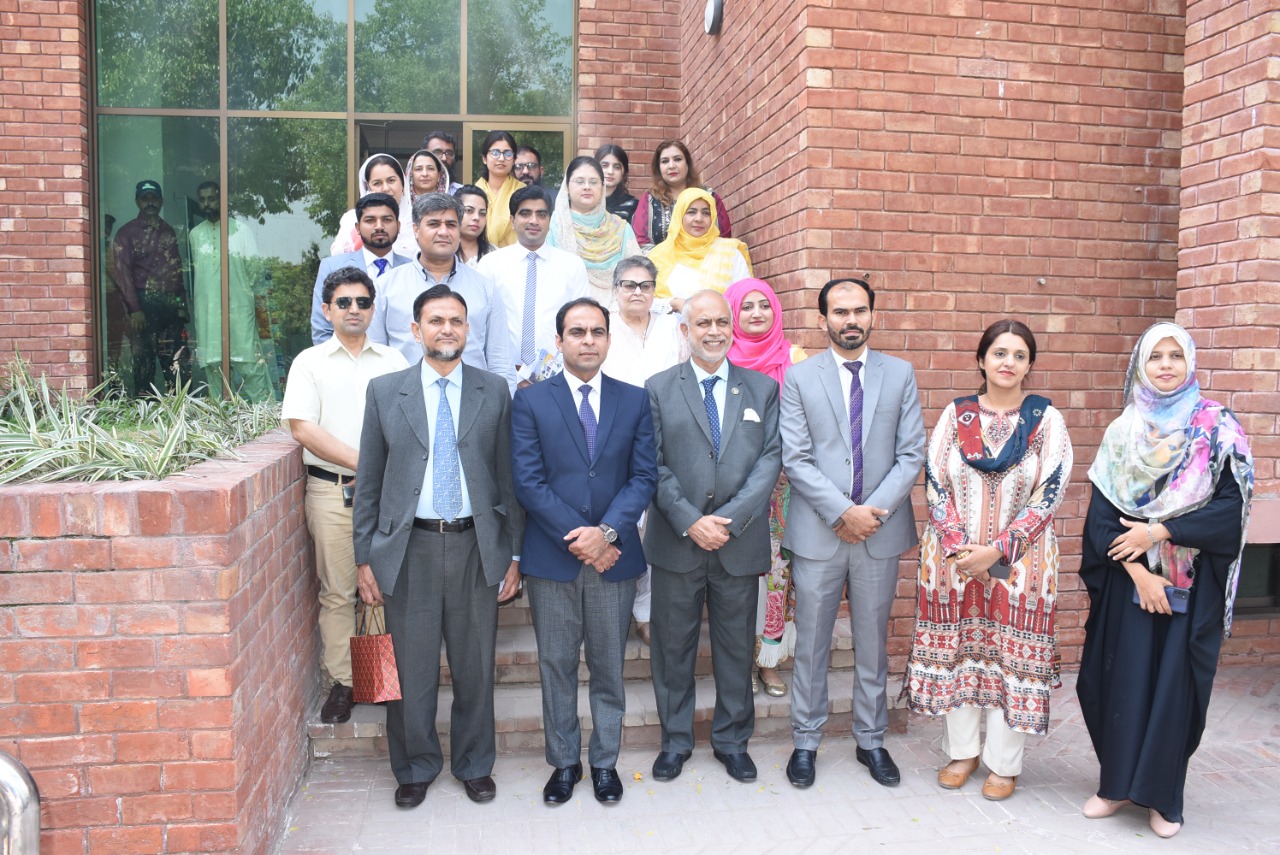 March 2022: Under the patronage and leadership of the worthy Vice Chancellor Prof. Dr. Bushra Mirza, Director ORIC Dr. Aqsa Shabbir was invited at Aiwan-e-Sadar to present her project, "Combating Deforestation Using Wireless Sensor Networks" under Pak-UK Education Gateway to President of Pakistan Dr. Arif Alvi. Also present at this prestigious occasion were Federal Minister of Education (former) Shafqat Mehmood, British High Commissioner to Pakistan, British Council Global Chief and HEC Executive Director Shaista Sohail. This Project with a worth of PKR 90 million is a collaboration between BUITEMS, NED Karachi, University of Glasgow and Middlesex University of London. Also, the first ever MoU of the Department of Electrical Engineering was signed between LCWU and BUITEMS under the scope of this project in January 2022.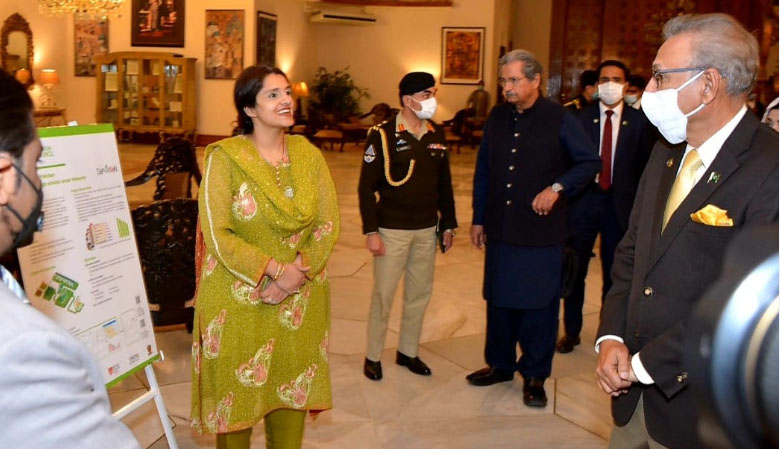 23rd February 2022: ORIC under the lead of Dr. Aqsa Shabbir Director ORIC, organized an interactive session for the faculty, PhD scholars, MS and BS students who are interested in pursuing higher education in the renowned educational institutions in USA. Session was hosted by Dr. Zia- Senior Manager ORIC and ORIC team. Admission Directors Mr. Amir Sadafi from University of Colorado-Boulder and on behalf of Dr. Ludmi Herath, Caci Colley from University of Houston-Victoria (UHV), USA shared details of the programs, admission processes and scholarship opportunities at their universities. Dr. Amina Muazzam, Director Research joined the session. Students and faculty members from different faculties also participated in the session enthusiastically. Worthy Vice Chancellor, Prof. Dr. Bushra Mirza interacted with the guests in her office and appreciated this initiative to encourage female students to pursue admissions in USA.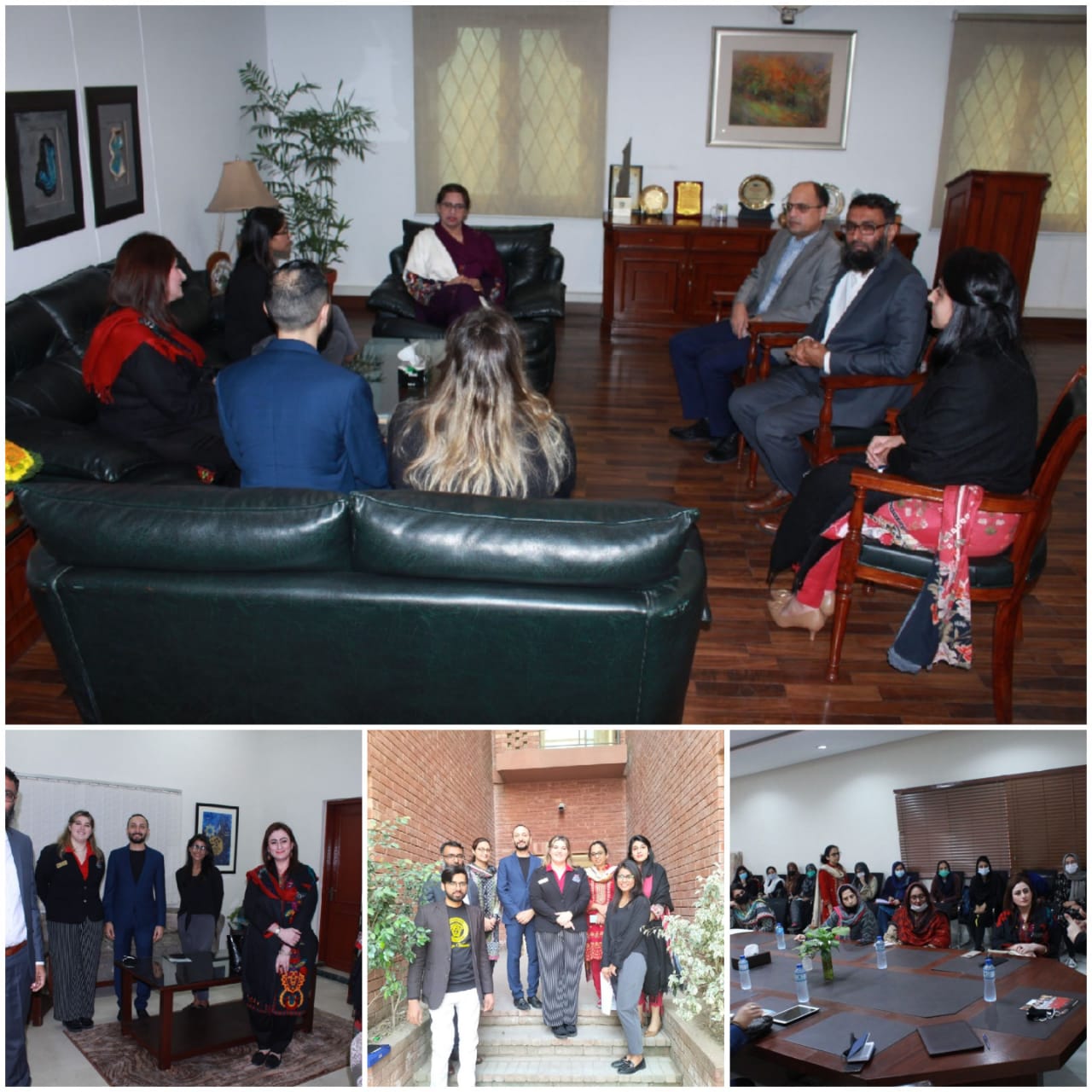 21st January, 2022: ORIC LCWU organized a meeting with Global Regional Innovation Program (GRIP) team to discuss the importance of international exposure for women academicians & startup founders. Ms. Hina Tariq, Chaudhary Mohammad Akram, Center for Entrepreneurship Development (CMACED), Mr. Waleed (GRIP Coordinator CMACED), Dr. Aqsa Shabbir, Director ORIC LCWU and Ms. Shagufta (ETE) LCWU, attended this meeting.


22nd January 2022: The Lahore Chamber of Commerce & Industry (LCCI) and Higher Education Commission (HEC) jointly organized the University-Industry Linkage Roundtable to discuss and devise strategies for strengthening of academia and industry linkage activities. The meeting was chaired by Ms. Shaista Sohail, Executive Director HEC, President and Senior Vice President of LCCI. Dr. Aqsa Shabbir, Director ORIC, Prof. Dr. Amina Muazzam, Director Research and Dr. Safia Anjum, Director Academics, represented LCWU on this event.


12th January 2022: ORIC LCWU was invited by Lahore Chamber of Commerce & Industry (LCCI) for a meeting chaired by LCCI Vice President Mr. Haris Ateeq and Dr. Aqsa Shabbir, Director ORIC LCWU. It was unanimously agreed to promote university-industry interaction, and entrepreneurial activities. ORIC team comprised of Dr. M.Zia-Ul-Haq, Senior Manager ORIC and Ms. Umul Baneen. Both sides were passionate about driving university-industry engagement, technology transfer, entrepreneurship and innovation in collaboration. Sheikh Ibrahim and Mardan Ali Zaidi from LCCI were also present on the occasion.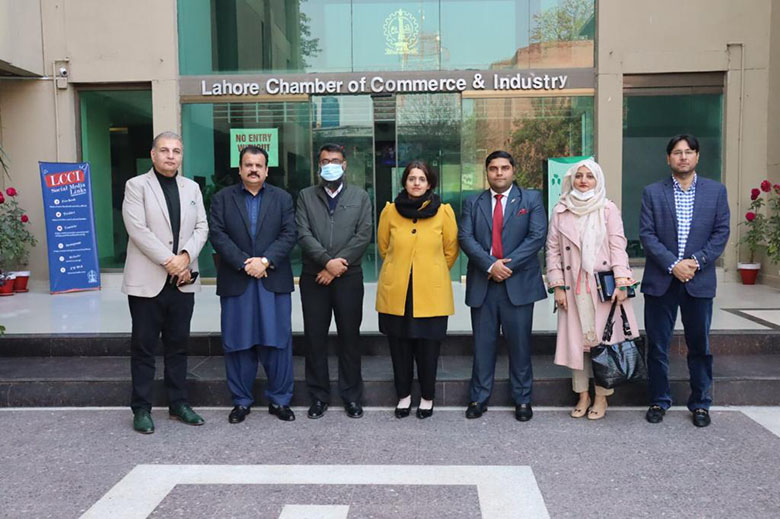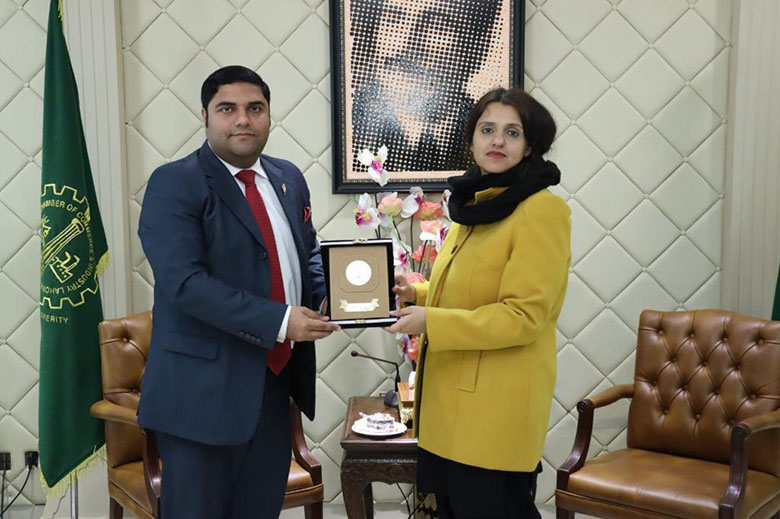 11th January, 2022: ORIC facilitated the Department of Geography for advisory meeting with industrial expert Sunder Trading Company affiliated with SOKKIA for the purchase of imported instruments. Shaukat Ali Nadeem, Chief Executive of the company joined the meeting and guided the faculty of Geography for the purchase of instruments. This company has been a pioneer in sales, services & rentals for full range of surveying instruments since the past 36 years. These instruments are required by Geography Department every year but are not easily available in local markets. Meeting was ended by a vote of thanks by Director ORIC, Dr. Aqsa Shabbir and Incharge Geography Department, Dr. Aysha Hanif.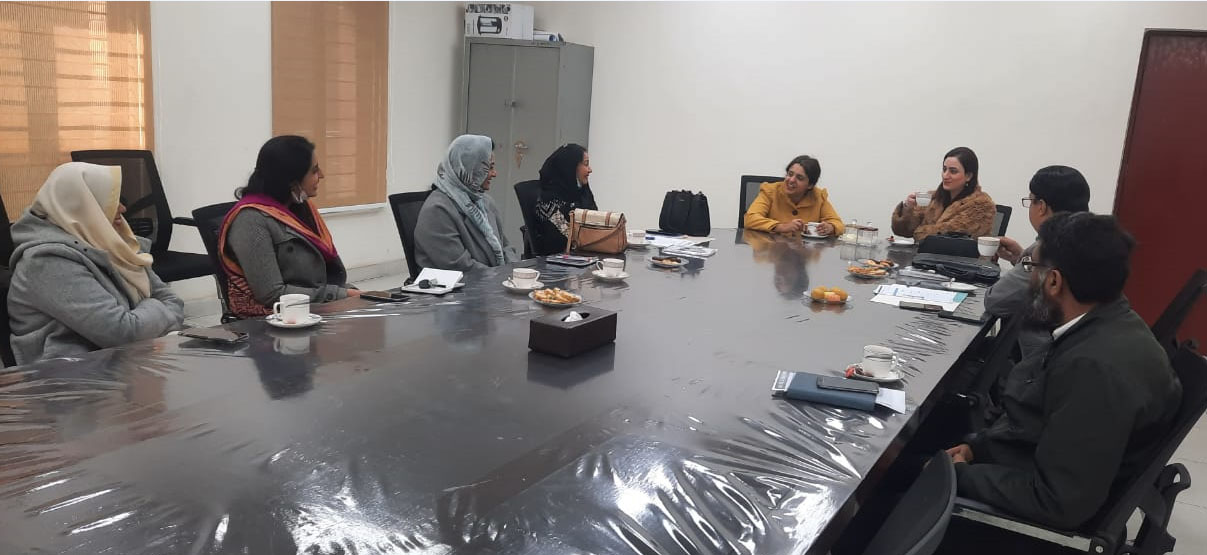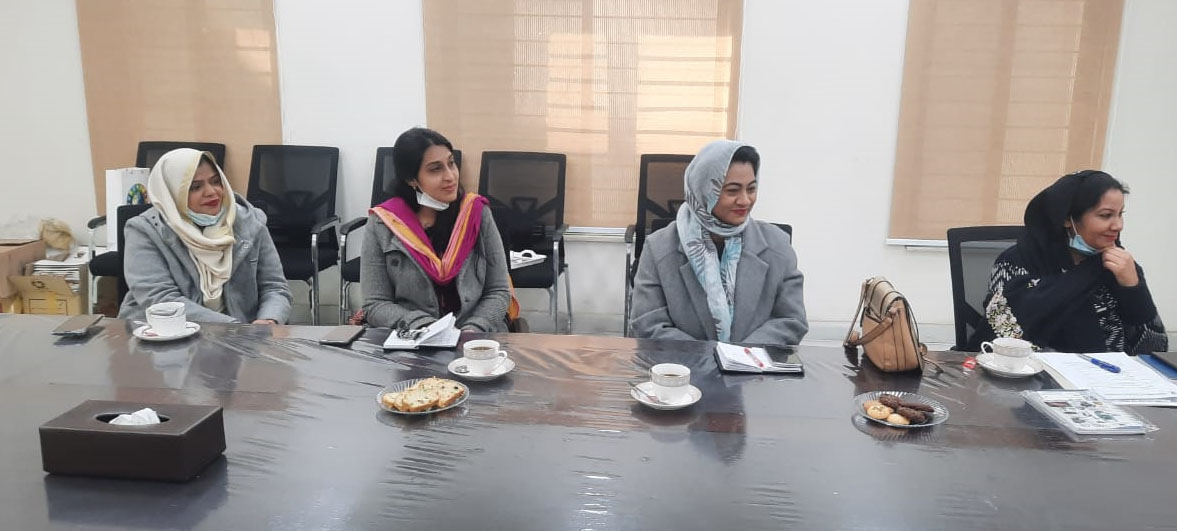 10th, January, 2022: ORIC- LCWU conducted a meeting with Engr. Dr. Muhammad Farooq from UET KSK and Dr. Abdul Sattar Nizami from GCU to develop linkages for collaborative research between LCWU, GCU and UET, KSK. Dr. Aqsa Shabbir (Director ORIC) chaired the meeting and possible avenues for collaboration in the field of academia and research were discussed.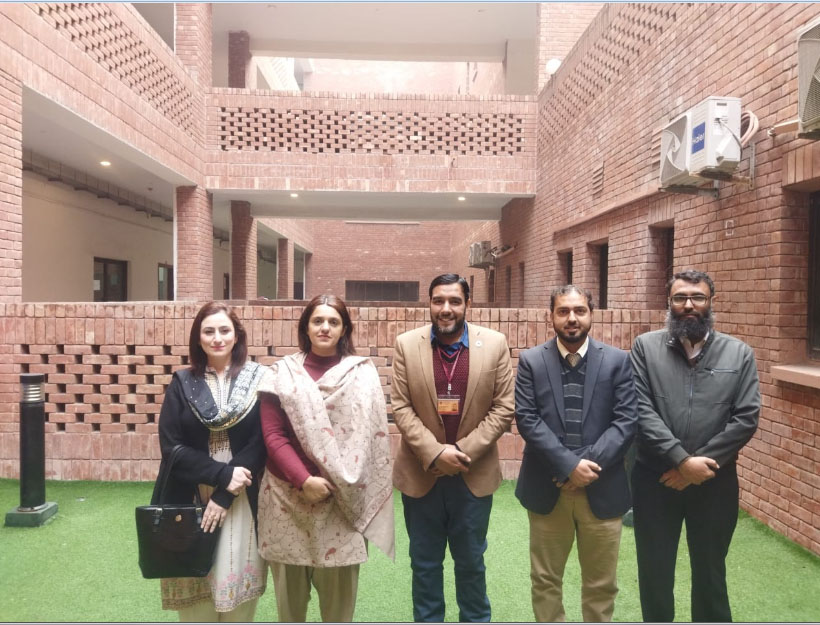 February 2022: A team from Center for Language Engineering, Al-Khwarizmi Institute of Computer Science (KICS), University of Engineering & Technology Lahore (UET) visited ORIC LCWU for establishing collaboration. Dr. Aqsa Shabbir, Director ORIC, chaired this meeting. The purpose of this meeting was to offer LCWU free access to use Parakh for checking Urdu plagiarism and authenticity of their research work. The KICKS team was kind enough to give Parakh free of cost. Prof. Dr. Rehana Kausar- CoD, Urdu Department, Dr. Ayesha and Dr. Imrana from Punjabi Department and Director Research represented LCWU in this session. Prof. Dr. Arshad and Ms. Sana from KICS presented the particular features and operation details of software.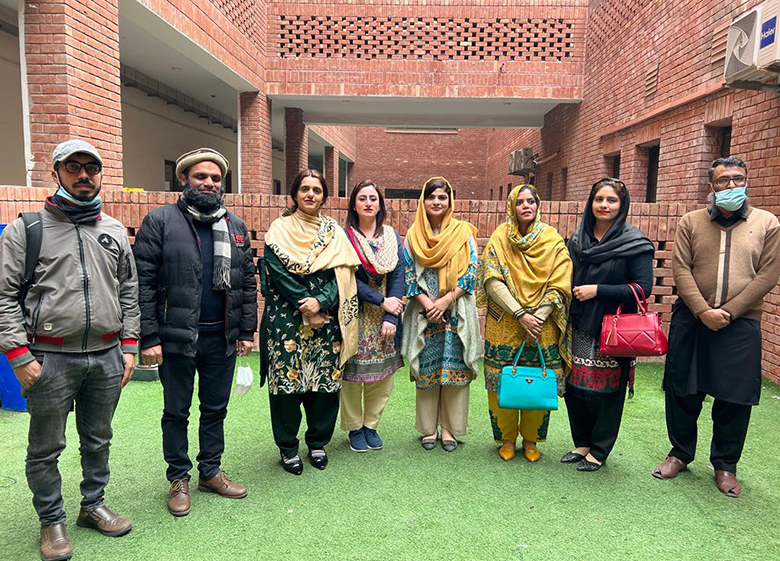 Signing Ceremony of MoU between LCWU and University of Jhang
 
The MoU was organized by the LCWU's Office of Research Innovation and Commercialization. Dr. Aqsa Shabbir, Director, ORIC LCWU, explained the background of the Office of Research Innovation and Commercialization with reference to the MoU. 
Samina Supra, Director, ORIC University of Jhang, briefed about her organization's efforts regarding the MoU.The MoU was signed by Vice Chancellor LCWU Prof. Dr. Bushra and Vice Chancellor University of Jhang Prof. Dr. Shahid Munir. This MoU will help in enhancing the links between the two institutions, said Prof. Dr. Bushra Mirza.The two universities will fully cooperate with each other for future joint research projects and solutions to mutual problems, said Prof. Dr. Bushra Mirza.
Role of Chinese and Pakistani Scientists in Life Sciences 
Department of Botany signed a letter of intent (LOI) with Chinese National Rice Research Institute (CNRRI) accompanied by a seminar on "Role of Chinese and Pakistani scientists in life sciences"

An Agreement  (MoU) was signed between LCWU and UET Lahore


30 May 2022: An Agreement (MoU) was signed between LCWU and UET Lahore marking the inclusion of LCWU in International Institute of Education (IIOE), a UNESCO initiative targeting SDG 4. Initiated and led by the very dynamic Dr. Saima Farhan, under the patronage of VC Prof. Dr. Bushra Mirza, this will be highly beneficial for students and faculty. 

MoU was signed between LCWU and Punjab Institute of Mental Health (PIMH) 
A MoU was signed between LCWU and Punjab Institute of Mental Health (PIMH) on the 18th of May 2022 under the banner of Office of Research, Innovation and Commercialization. This MoU, initiated by the Department of Applied Psychology, is the first national MoU penned down by the Department.