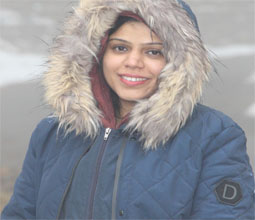 Amna Afzal
Lecturer
Department of Geography
Experience
20-02-2020 to date, Lecturer ,LCWU

Novemebr2015-August2019,Visiting Lecturer,

Government College University, Lahore.

September2014-Feburary 2015,Visiting Lecturer,

LCWU

April2009-August2014,Senior Teacher ,

Aligarh Public School Gulberg, Lahore

September2007-September2008,Internship,

Mines and Minerals Department, Punjab.   

            
Honor and Awards
Certificate awarded in a workshop on "Syllabus Writing"
Dated 24th -26th November, 2020 arranged by DFDI LCWU, Lahore.

National level workshop on "GIS Mapping Through Drone Technology" 11th – 13th April 2018 organized by Department of Geography, GC University Lahore, Pakistan.

International Seminar on "Automated GIS" January 2017 by Hossein Vahidi PhD Scholar from Keio University, Tokyo Japan organized by Department of Geography, GC University Lahore, Pakistan.
Memberships
NIL

BS Honour Students

Years                         Degree                                  Name
2020                             BS Geography                 Manal Raza
2021                             BS Geography                 Iqra Imtiaz
2021                            BS Geography               SamraPervaiz
Experience of research supervision of Eleven (11) students of BSc (Hons.) in GCU, Lahore. Research groups mainly focused on Climate Change and Temperature Variability, Urban Studies, Environmental issues of Urban areas, Drinking water quality of urban areas and its impacts and Disaster management.

Service Activity
Lecturer (Delivering lectures on various courses of BS Geography)

Departmental OCD Coordinator

Departmental In charge Student's Affair

BS Research Supervision

BS Admission Coordinator

Prospectus Coordinator

Focal Person Urban Green Tree Plantation for Lahore and KSK Campus.

BS Session (2020-2024) Coordinator

BS Self Support Coordinator
Brief Statement of Research Interest
My current research interests lie broadly in the using of GIS for urban and environmental applications and focus mainly on Urban water management (specially rain-water). disaster management and Urban planning with reference to Sustainable Development Goals (SDGs) for smart and sustainable cities (Future research area for doctoral research).
Publications
MS. Geography final Research Dissertation titled "AN EVALUATION AND IMPACT ASSESSMENT OF EXISTING DRAINS OF LAHORE METROPOLITAN AREA IN GIS PERPECTIVE" (2014).


Junior Atlas (Grade 1-5 Class) designed as a Cartographer and Senior Atlas (for O' Level) is under working will published by Albakio International, Lahore Pakistan (In Press)