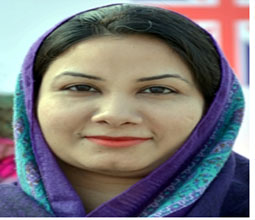 Ayesha Hanif
Assistant Professor & Incharge
Department of Geography
E-mail:This email address is being protected from spambots. You need JavaScript enabled to view it.
Experience   
8th Oct,2004 Lecturer LCWU
26th May,2015 Assistant Professor LCWU
Honor and Awards
Merit scholorship in M.Sc

HEC Indigenous Scholarship in Ph.D
Memberships
Member of Society of Urban Ecology(SURE)

Incharge of Departmental Physical Resources and Infrastructure, L.C.W.U

Coordinator of Curriculum Revision Committee, L.C.W.U

Member of Departmental examination Committee, L.C.W.U

Member Board of studies, Geography, L.C.W.U

Member of NCRC HEC
Graduate Students/Postdocs/Undergraduate Students/Honour Students
Years                         Degree                                  Name
2016                             BS                            Rida Intizar
2016                             BS                            Mahrukh Nisar
2017                             BS                            Shanze Sayal        
2018                             BS                            Ifrah Anwar
2018                             BS                            Amina Aslam
2021                             BS                            Ramsha Sohail
2021                           BS                          Saba Tariq  
Service Activity
In charge of Department

Teaching ( BS )

Research Supervisor of BS thesis and Reports

Allocation of Departmental duties among Faculty members

Allocation of subjects among faculty

Convener departmental budget committee

Member of faculty board, Lcwu

Convener physical assets and infrastructure of deptt

Handling of gold medal account departmental

Incharge of departmental admission committee

Conduct and convene of BoS, Geography
Brief Statement of Research Interest
My research interest is aimed to highlight the role of urban parks in provision of ecosystem services to the citizens in relevant to achieve the sustainable development goals of UN. As a geographer, I tried to shed light on the benefits and importance of green spaces/parks in mitigating the local climate change impacts.
Publications
In Press

Hanif A., Shirazi A. and Majid A (2020). "Assessing quality of life through people's perception: a case study of Lahore- Pakistan". Accepted to be published in Oct- Dec 2020, Journal of agricultural research, Vol 58 (04).(Y category-HEC recognized)

Aslam A., Hanif A. and Liaqat A (2018). "Evaluation of attractiveness rate of cultural ecosystem services among visitors of selected urban green spaces of Lahore". Pakistan Geographical Review, Vol.73 (1), pp. 35-51. (Y category-HEC recognized)

Hanif A., Shirazi A. and Majid A (2020). "Role of community for improvement of ecosystem services in urban parks". Pakistan journal of agricultural sciences, Vol 57 (6), pp 1591-1596. (X category- HEC recognized)

Zia, S, S. Yaqoob , M. Nasar-u-Minallah, A. Hanif , A. Aslam. 2021. Analysis between Vegetation and Traffic Noise Pollution: A Case Study of Lahore, Pakistan 2021. International Journal of Economic and Environmental Geology, Vol. 12 (3) 65-70.
Other Research or Creative

Supervised seven undergraduate research students

Selected Professional Presentations

Present a research paper titled" An Ecosystem services based approach to identify indicators for quality of life: A case study of Lahore." in 1th All Pakistan Geographical Conference on 11th-13th March 2021