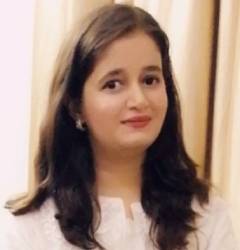 Ar. Farina Shahid
Lecturer
Department of Architecture
E-mail:This email address is being protected from spambots. You need JavaScript enabled to view it.
Experience
5 years Visiting Teaching Experience at LCWU
Founded and Managing FEEN'ARTS since September 2020

Local and International Collaborations in Arts and Architecture

Former Associate Architect at DESIGNS (August, 2019-January, 2020)
Former Trainee Architect at TECHZONE CONSULTANTS (July, 2017 – March,2018)
Former Internee at CITIZEN ARCHIVES OF PAKISTAN for National History Museum, Lahore (May, 2016)
Former Internee at ARCHBLUE CONSULTANTS, Lahore (June, 2015- August,2015)
Honor and Awards
2nd Runner-up                in                     International         Parametric     Furniture    Design Competition 22, Spain

Top Scorer Masters of Architecture 2020 Session, UET

Distinction in Bachelors of Architecture Thesis Design

Silver Medalist Bachelors of Architecture, session 2018
Memberships
Pakistan Council for Architects and Town planners (A-07231)

Institute of Architects Pakistan (A-2206-21)
Graduate Students/Postdocs/Undergraduate Students/Honor Students
NIL
Service Activity
Juror in Public and Private Sector Institutions

Juries and Exams Management for Courses Instructed

Workshops, Lectures & Collaborations for various platforms
Brief Statement of Research Interest
I am a Post-Graduate fellow at Department of Architecture, University of  Engineering  and        Technology,     Lahore                          with          an        interest             in contributing to a deeper understanding of Rapid Digitization Era and its Impacts on Arts & Architecture. The Technological Advancements globally have not only in the drastic shifts in the way of living in general but the 'Windows of Human Expression' i.e. Arts, Crafts, Architecture or Music too has changed a lot. In Architecture, these transformations have been resulting to various other Architectural Theories or School of Thoughts along with a different domain altogether which is Digital Architecture; now crucial in transforming the Complete Process of 'Architectural Thinking'.
Current Works:
Being Associated to both Research and the Practical aspects of Digitized Mode of Arts and Architecture, my current focus is to Explore,   Collaborate           and     Contribute                       in                  the     'New        Norm'  of Architectural Design Processes, predominantly though Academia but also through my works as Digital Artist and Architect infield practice. Currently working on my Master's Thesis, my aim is to work on defying ways       and  methods  through                            which                  the    contemporary approaches of 'Non-Standard' or 'Post-Fordist Logic' Thinking in Architectural      Design    Processes    can    replace    the    Conventional, Industrial Logics and somewhat obsolete process of practicing Architecture.  In          Academia,                       we       as                  faculty     members     hold   great responsibility in inculcating these fresh concepts into the students to train them for Future.
Directions Ahead:
To Facilitate and Develop methodologies in playing active role for the adoption of the Digital Design Culture in Arts and Architecture of Pakistan through Research, Academics and Practice.
Publications

Other Research or Creative Accomplishments

2nd Runner-Up for 'The Sverchok Compartments' at International Parametric Furniture Design 22, Spain. The project got Critical Acclaim from the Parametric Design Category 

Winner of Open House Design Competition for 100 years Anniversary Monument at Lahore College for Women University, Lahore, constructed under the Supervision of Honorable Madam Vice Chancellor LCWU Prof. Dr. Bushra Mirza and Monument Committee Lahore College for Women University.
(Inauguration Date: 30th September,2020)
Selected Professional Presentations
The Sverchok Compartments

Meta-Pavilion Designs for VR World

Illustration Art pieces

LCWU 100 Years Monument