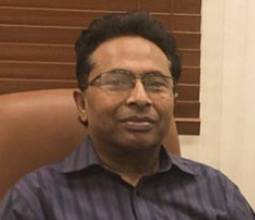 Prof. Dr. Intesar Ahmed
Professor/ Dean, Faculty of Engineering and Technology
Department of Electrical Engineering
E-mail:  This email address is being protected from spambots. You need JavaScript enabled to view it.
Personal


For the last 19 years, I have been served in different positions in reputed universities in the capacity of Lecturer, Assistant Professor,    Associate       Professor       and         Professor.    In    this capacity, I have taught almost all subjects related to Electrical Engineering at graduate and post graduate level. I have also been served in the university administration in the capacity of Head of department, Deputy Director (R&D), Deputy Project Director and as a consultant level. In addition, I am actively involved in Research & Development. I have numerous international publications and received many research awards in this regards. I am also the Head of Renewable Energy and Power System (REAPS) Research Group. I am approved HEC supervisor and also the member/fellow of different professional bodies' i.e. In PEC as (Professional Engineer), In IEEEP as Fellow and as member is Australia Engineers Association. I am also the official external examiner at postgraduate    and           undergraduate          level        for    different universities       in     Pakistan.        The      short      details       of        career experience.
Experience


1, Lahore College for Women University, Lahore. (11August 2011- Continue) Professor, Head of Electrical Engineering Department.
2.    COMSATS Institute of Information Technology, Lahore (28th April 2008-25th Aug 2011) Associate Professor and (Head of Electrical Engineering Department)
3.    National University of Sciences and Technology, NUST (17th Feb 1999-8th March 2003) Senior Lecturer and Officer- In charge of Electrical Engineering.
4.    The University of Adelaide, Australia(1st July 2003 - 17th Dec 2004) Instructor/Lab In-charge
5.    Technical Education Department Punjab, (26th June 1996- 18th Feb 1999) Head of Department and Assistant Professor (Electrical)
6.    Al-Raza Engineering Company, Karachi, (2nd Feb 1991– 20th June 1996) Assistant Manager (Electrical Engineering)
Member of Inspection Committee

Member of Examination Committee

Member of Doctoral Committee

Member

of ORIC

Fellow Member of IEEEP

Member of NCRC (Nation Curriculum Review

Committee) of HEC

Professional Member of PEC (Pakistan Engineering

Council)

HEC Approved Supervisor

Approved Project Evaluator of ICT R&D
Graduate Students
Postdocs
Undergraduate
Students
Honour Students
Analysis of Problems Associated with Condition Monitor of
Hydrogen Cooled Generators and its Remedial Measures

•
A Simplified Algorithm for Space Vector PWM for
Transformer Less Grid Tie Invertor Topology

•
Design and Analysis of Lightning Protection for
Substations

•
Environment Friendly Coal Based Power Generation in
Pakistan

•
Islanding Detection Techniques of Photovoltaic Inverter
Based Systems

•
Uninterrupted Power Supply Topologies With Active
Power Fi
ltering Technology Harmonics Elimination


Service Activity
Administrative and teaching

Brief Statement of
Research Interest

I am an Electrical Engineer specializing in power system
architectures that utilize the characteristics of applications,
users an
d materials in a holistic manner.
Publications



1.K. Imran, T. Hassan, M. F. Aslam and

I. Ahmad

, "

Simulation

Analysis of Emissions Trading Impact on a Non

-

Utility Power

Plant",

International Journal of Energy Policy

, 37 pp 5694

–

5703,

2

nd

September

2009,

DOI

information:

10.1016/j.enpol.2009.08.036,

http://dx.doi.org/10.1016/j.enpol.2009.08.036

. (IF 2.436, ISI

Indexed)


2.

Zaki Ahmad,

I

.

Ahmed

, Faheemuddin Patel, "

Fog Collection

by Mimicking Nature

",

Journal of Biomimetics, Biomaterials, and

Tissue Engineering

,

JBBTE

, Online available since 2010/Nov/17

at

www.scientific.net

. © (2010) Trans Tech Publications.

Switzerland, Vol.8 (2010) ISSN: 1662

-

1018, pp. 35

-

43, (2010)

doi:10,4028/www.scientific.net/JBBTE.8.35
Book Chapter


3.

Amir Farzaneh,

M.Mohammadi, Zaki Ahmed and Intesar

Ahmed," Aluminum Alloys, New Trends in Fabrication and

Application", Chapter 13 ,Aluminum Alloys in Solar Power

-

Benefits & Limitations, published by InTech,Janeza Trade line

9,Rijeka,Croatia, .pp 325

-

351.ISBN 978

-

953

-

51

-

0861

-

0