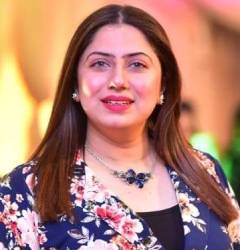 Dr. Arsha Saleem Meer
Lecturer
Department of Mass Communication
E-mail:This email address is being protected from spambots. You need JavaScript enabled to view it.,
This email address is being protected from spambots. You need JavaScript enabled to view it.
Education
PhD in Media and Communication Studies, Center for Media and Communication Studies University of Gujrat

MS Degree in Mass Communication, Lahore College for Women University, Lahore.

Concentration in Research; Graduated with 3.32 C.G.P.A 
BS (Hons) Degree in Mass Communication, Lahore College for Women University
Concentration in Broadcast Media; graduated with 3.27 C.G.P.A. 
Faculty of Arts, Lahore College for Women University, Lahore.

Matriculation in Science Group, Cathedral High School
Teaching Experience
Lecturer, Department of Mass Communication , Lahore College for Women University, Lahore
Teaching Graduates and Under Graduates      2019- Present
Teaching Assistant, Department of Mass Communication, Lahore College for Women University Lahore                    2015
Professional Experience
Producer, Samaa TV, Lahore                                                                                                
Producer of Samaa TV's Programs "Qutb Online"  & "Samaa Kay Mehman". 
Casting Director, Red Ocean Productions                                                                                                
Reviewed promotional photos and resumes Reviewed scripts, and prepared special casting requirements. Distributed the information to appropriate talent agencies and self-represented performers. Facilitated scheduling of call backs and secondary auditions. Conducted research on organizations and individuals as required. Negotiated contracts and scheduled between performers and their agents and the production company. 
Project Head & Associate Director, Sports Board Punjab                                                                        
Performed as a Project Head & Associate Director of "Choo Lou Asmaan"
Worked closely with Geo Tv Network " The Official Media Partner of Punjab Youth Festival".
Intern, District Desk Editor, Waqt News.                                                                                       
Worked in News section  and prepared rundown for  News (Karachi se Khayber tak)
Intern, Campus Radio of LCWU 96.6.                                                                                               
Performed as an RJ and Narrator, prepared features and documentaries for radio broadcast. Read news for the news section on shows.
Intern, The Nation Newspaper.                                                                                                        
Demonstrated success in magazine section at The Nation newspaper. Published and contributed byline article on Sun Diseases acquiring 4 columns space in Sunday Plus magazine. An interview was also published in Young Nation.

Research Work
Impact of Trauma and Post-Traumatic Stress Disorder on Journalists Performance published in JRSP, Vol. 58, No 3 (July-Sept 2021) 
Impact of Socio Religious Programs on Viewers: A Case Study of Qutab Online, published in Global Regional Review, VI(II), 153-159. 
Role of Quranic Communication for Betterment of Society published in Global Social Sciences Review, V(III), 417-430 
Discourse on United States in Print Media: Image Construction in English Newspapers of Pakistan, published in JRSP, Vol. 57, No 3 (July-Sept 2020 
Influence of Social media on psychological distress among youth: A case study of Instagram, published in Global Sociological Review Vol. V, No. III (Summer 2020) 
Effects of Breaking News on the Quality of Pakistani Television News: A Journalistic Perspective, published International Review of Social Sciences Vol. 8 Issue.8 
Fostering the social Capital: Interplay of Public Relations and Democracy, Global Economics Review, V(IV), 1-11. 
Breast Cancer Awareness Media Campaigns in Pakistan: Knowledge, Attitude and. Practices of women Global Regional Review, V(II), 130-137. 
Impact of Infomercial Advertisements on the Product Purchase Intention of the Consumers of Lahore, Pakistan, published in International Journal of Scientific & Engineering Research Volume 9, Issue 8, Augsut-2018 263 ISSN 2229-5518 
Impact of Political Communication on the Voting Behavior of Youth of Lahore, Social Science Review Volume 4, Issue 1, June 2018 ISSN 2518-6825 29 
Virtual Identities and Social Media: A Case Study of Snapchat (2016-17)
Conference Papers
Public Service Educational messages in educating people about the perceived risk of hepatitis

Effects of Smartphone Applications on personal grooming of school children: An exploratory study in urban Pakistan
International Conferences
Attended an International Conference on Journalism , Media and Mass Communication (IIRST), Hong Kong (2018)

Attended a World Conference on Multi disciplinary Research and Innovation (WCMRI-18) , Dubai 2018
Workshops/Seminars/Webinars/Trainings/Certifications
Attended Advance Media workshop on Countering Violent Extremism conducted by Ministry of Information, Broadcasting National History and Literary Heritage in Information Services Academy Islamabad

Attended 1 week Faculty Orientation Training Program conducted by Punjab Higher Education Commission (PHEC).

Attended a webinar on Climate Change conducted by SPO, LCWU and Punjab University.

Attended a workshop/meeting with parliamentarians on the issue of Climate Change.

Attended Workshop on Team Building and Motivation organized by Qasim Ali Shah Foundation.

Attended a workshop on Leadership style and Capacity building organized by Superior Group of colleges

Attended Three day Seminar and Workshop on Perception of Practice by Dr Ahmed Bilal in Lahore College for Women University, Lahore

Attended a workshop on Women in Advertising Subject or Object conducted by Akhwat Institute            of Social Enterprise and Management , Lahore.
Specialization
Broadcast Media (Television and Radio)

Digital Media

National and International Affairs
Theses Supervised
At MS Level 8+ Theses

At BS Level 60+ Theses
Awards
Awarded as the Best Narrator of FM96.6 Voice of LCWU 2013

Awarded with Roll Of Honor, 2012

Awarded as the Best Cricketer of LCWU, 2011

Awarded as the best Cricketer and Basketball Player of LDBE, 2004
Extracurricular Activities
Represented LCWU in Lahore Board.

Represented Lahore Board in Islamabad.

Represented LCWU in All Pakistan Inter University Championships for 6 consecutive years.

Represented LCWU in Punjab Youth Festival in Basketball event.

Represented LCWU in 70th Punjab Games.
Represented Punjab in 31st National Games, Peshawar.

National Player of Basketball & Baseball.

Captain of LCWU Cricket Team for two consecutive years.

Member of Basketball, Hockey (Vice Captain), Football, Volleyball, Handball and Baseball teams of LCWU.

Represented Cathedral School in Cricket and Basketball.

Represented Cathedral Cricket Club in PCB.

Captain of Cathedral School Cricket Team for 4 consecutive years.

Captain of Cathedral School Basketball Team for 2 consecutive years.
Publications
Virtual Identities and Social Media: A Case Study of Snapchat (2016-17) Published in VFAST Transactions on Education and Social Sciences ISSN (E) 2309-3951 ISSN (P) 2411-0221

Impact of Political Communication on the Voting Behavior of Youth of Lahore Published inSocial Science Review Volume 4, Issue 1, June 2018 ISSN 2518-6825

Impact of Infomercial Advertisements on the Product Purchase Intention of the Consumers of Lahore, Pakistan published in International Journal of Scientific & Engineering Research Volume 9, Issue 8, Augsut-2018 263 ISSN 2229-5518