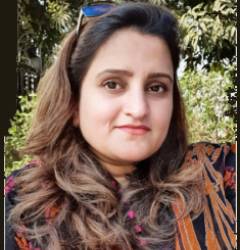 Hadia Bilal
Lecturer
Department of Mass Communication
Email:This email address is being protected from spambots. You need JavaScript enabled to view it.
This email address is being protected from spambots. You need JavaScript enabled to view it.
Education 

Ph. D Mass Communication
Department of Mass Communication, Lahore College for Women University.
Session 2017-22
(Data processing and thesis write up is under process)MS Mass Communication (Equivalent to M.Phil) with Specialization in New Media Research
Department of Mass Communication, Lahore College for Women University.
Session 2010 – 12
CGPA: 3.54

BS (Hons.)  Mass Communication
Department of Mass Communication, Lahore College for Women University
Session 2005 – 2009
CGPA: 2.91

F.Sc. (Pre-medical)
Garrison Post Graduate College for Women.
2003-2005
Grade: B       

Matriculation (Science)
Society Public high School, Lahore Pakistan.
2003
Grade:  A
Work History
Lahore College for Women University:

Currently, working as Lecturer (Regular Govt. Employee BPS-18) in the Department of Mass Communication, Lahore College for Women University.

Responsibilities:

BS Examination Coordinator

Teaching courses

Research theses supervision

MESSAGE COMMUNICATIONS:

            I have worked as Research Associate in Media Buying and Planning Department of Message Communications from March 15, 2007 to March 31, 2011.

Responsibilities:

Collecting and analyzing data

Maintaining accurate records of interviews, safeguarding the confidentiality of subjects, as necessary

Requesting or acquiring equipment or supplies necessary for the project

Managing and responding to project related email

Preparing, maintaining, and updating website materials

Attending project meetings

Attending area seminars and other meetings as necessary

Preparing other articles, reports, and presentations

Monitoring the project budget
TRAININGS/WORKSHOPS/SEMINARS/CONFERENCES ATTENDED
Workshop for Media Professionals organized by DFDI, UNICEF, LCWU on 15 Jan 2011.
Gender Sensitization workshop organized by DFDI, LCWU 9 on May 2011.
International journalism conference 2013 organised by FPAC, Govt. of the Punjab on 21-23 Feb 2013.
Fundamentals of assessment in higher education organized by LCWU on 13-14 Sep 2013.
Academic quality assurance organized by DFDI, LCWU on 17 DEC 2015.
Indigenous on campus Training under HEC Modern University Governance Program organized by DFDI, LCWU on Oct-Nov 2015
Essentials of Project Management for Academic Excellence Prudential Learning Solutions on 17 Nov 2015
In Service Short term Training of University Faculty on Andragogical and communication skills organized by LCWU on 16-20 May 2016.
Research Colloquium organized by DFDI, LCWU on 23-27 Oct 2017.
Social sciences and Humanities in the New Millennium: Challenges and Prospects, organized by Virtual University, LCWU on 14-16 Dec 2017
HONORS & AWARDS
On the basis of my academic performance and excellence in well conduct, I was elected as the President of Student Council, Lahore College for Women University in 2010 and was awarded with the ROLL OF HONOR.

Awarded as the Best Pioneer RJ of FM 96.6 Voice of LCWU in 2011.
SKILLS
Proficiency in English & Urdu Language

Management skills

Good team player and team lead

Persuasive and enthusiastic

Understands new concepts easily – Quick learner.

Ability to handle stress.

Technology friendly.
Publications
"INTRODUCTION, GROWTH AND FUTURE OF VLOGGING IN PAKISTAN: AN EXPLORATORY STUDY" published in March 2020 in Pakistan Social Sciences Review (PSSR) V4-1

ISSN(Print):2664-0422 - ISSN(Online):2664-0430 - ISSN-L: 2664-0422. DOI Number: 10.35484/pssr.2020(4-I)84.

"IMPACT OF TELECOMMUTING ON THE FINANCIAL AND SOCIAL LIFE OF TELECOMMUTERS IN PAKISTAN" published in Summer 2017 in Pakistan Economic and Social Review, Vol. 55, No. 1 (ISSN- 1011-002X (Print) 2224-4174 (Online)

"USAGE AND IMPACT OF TELECOMMUTING ON ITS USERS IN LAHORE, PAKISTAN". MS Research Thesis (2012).