18th  August 2020: Department of Persian LCWU organized an International webinar titled" Punjab's Sikh Era & Impact of Persian Art, Culture & Language " on Tuesday. The objective of the webinar was to highlight the cultural outlook of the Punjab in the subcontinent.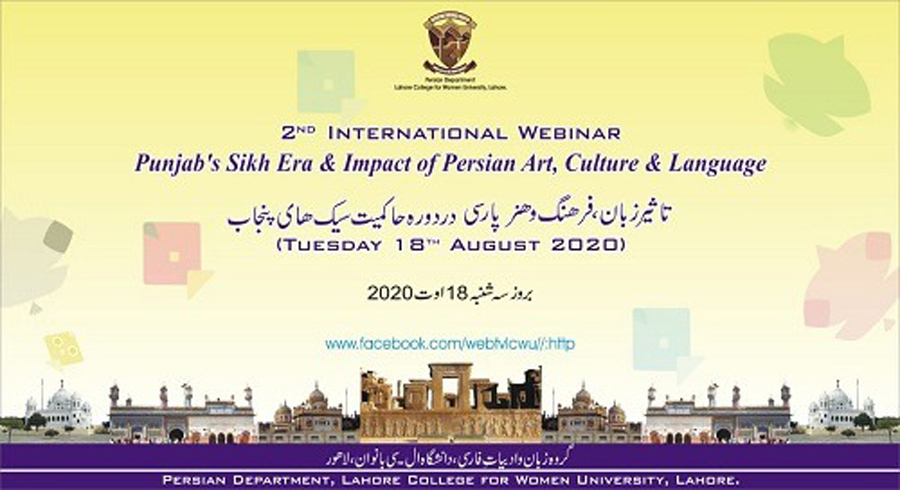 Addressing at the webinar  Dr Bushra Mirza Vice Chancellor Lahore College for Women University says that it is the need of the hour to promote our Cultural roots. Punjab holds great importance not only because of being an ancient province of Subcontinent but also for having a great impact on Iranian  Culture & Civilization such as language, religion and Art. she further added that Culture would be the strong tie between Pakistan and Iran.
Dr.faleeha Kazmi chairperson Persian Department LCWU said that Relations between ancient Iran and Province of Punjab were very old and strong. Baba Guru Nanak Gee was inspired by Persian poets and he went to Iran to seek knowledge. She read the Persian verses of Guru Gobind Singh, one of the most popular Sikh Guru of Aurangzeb's Era.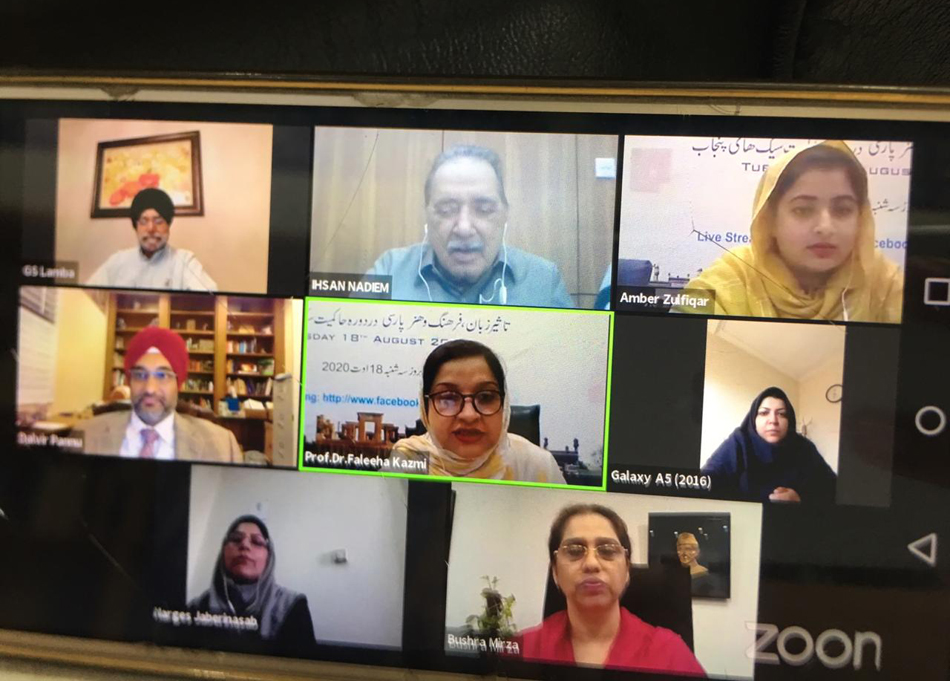 Professor Dr.Elham, Saadi Foundation-Iran discussed about authentic Persian history of Kashmir which was written in a Sikh king Raja Sukh Jiwan named: Shahnama Kashmir. Dr Lamba emphasized that Guru Nanak Gee always gave especial respect to the Persian Language.
 Author of the Book " The Sikh Heritage: Beyond Borders, USA Dr Dalvir Singh highlighted the impact of Persian Culture on Sikh period in Punjab. Dr.Jabari Nasab from Iran discussed the role of Sikh Persian poets and writers during the said period. Chairperson Dayal Singh Research & Cultural Forum  Mr.Ihsan H.Nadeem talked about the importance of Persian language in Punjab, He said that though in the period of Maharaja Ranjeet Singh some Sikh people objected to having Persian as court language but keeping in view its unanimous understanding among people as compare to Punjabi, Maharaja Ranjeet Singh continued use of Persian as the court language. Dr Narges Jaberi Nasab  Islamic Azad University South Tehran, Gurcharnjeet Singh Lamba  Former editor Sant Sipahi, Mr.Ihsan H. Nadeem Director Dayal Singh Research & Cultural Forum, Lahore also participated in the webinar as guest speakers. The Webinar ended with the vote of thanks by Prof. Dr.Faleeha Kazmi.