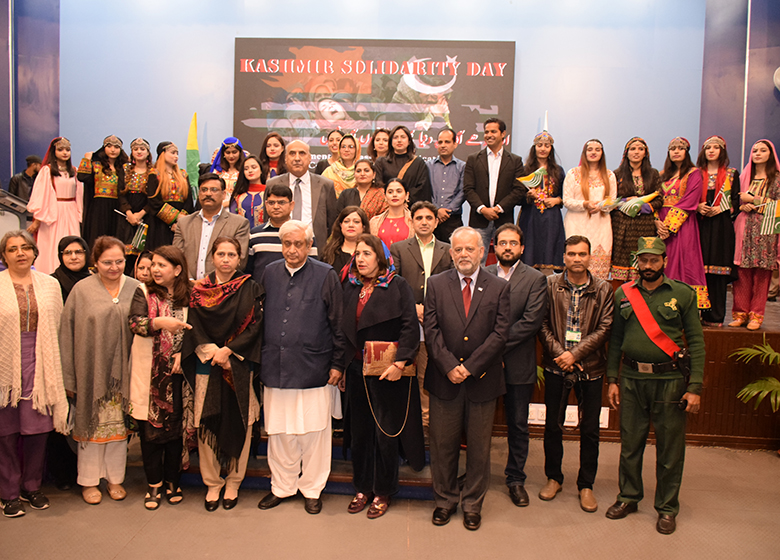 Lahore: To express solidarity with the people of Indian occupied Kashmir in their legitimate struggle for right to self-determination, a seminar in the connection of Kashmir Solidarity Day was organized by the Department of Mass Communication, Lahore College for Women University (LCWU) at its varsity auditorium. Mr. Syed Fakhar Imam, Chairman Parliamentary Committee on Kashmir as the chief guest of the occasion, along Uzma Kardar, Provincial Member Assembly and member Kashmir Committee, Mr. Salman Ghani, Senior Analyst and Journalist, Dunya TV, Mr. Sajjad Mir, Senior Journalist, Prof. Dr. Bushra Mirza, VC LCWU, and Dr. Anjum Zia HoD Deptt. Of Mass Communication LCWU while expressing tribute to the unparalleled commitment of the Kashmiris for the attainment of the legitimate right to self-determination, highlighted grave human rights situation in the occupied valley and genocide being committed by Indian occupation forces.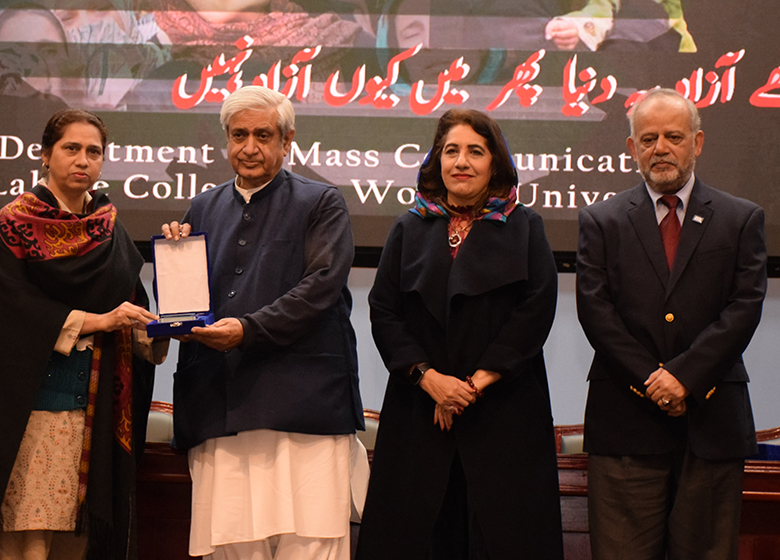 Mr. Syed Fakhar Imam, Chairman Parliamentary Committee on Kashmir said that Kashmir was not an internal issue of India rather its solution was mandatory for regional stability and global peace. "Pakistan is stick on one stance and current government whole-heartedly supports the Kashmiris," he opined. He said the sacrifices of Kashmiri people will not go in vain and they will see the dawn of independence one day.

Dr Bushra Mirza, VC of LCWU, was of the view that Kashmir was not internal problem of India but it was an international dispute. She said that the story of Kashmir was the story of Indian repression and conspiracies.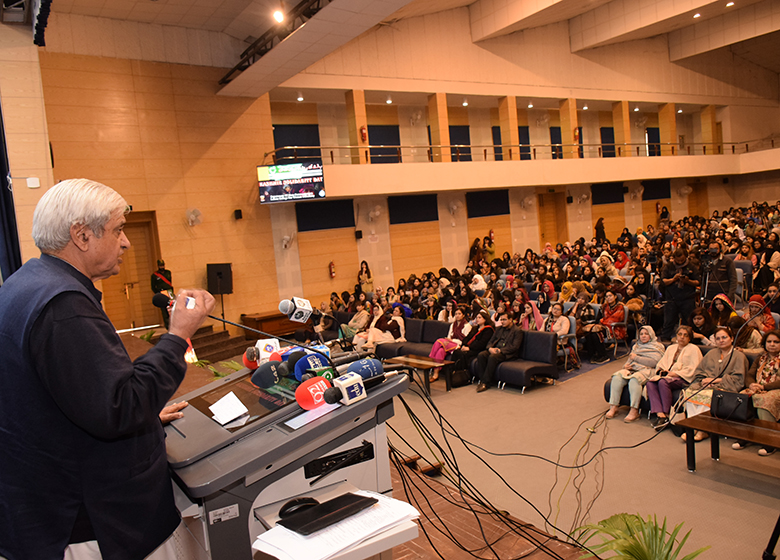 Speakers regretted the silence of international human rights organizations on the situation in occupied Kashmir. Uzma Kardar said the blatant human rights violations there were not tolerable to the Pakistani nation. "Kashmir is an unfinished agenda of partition, which has created instability in the South Asia since both India and Pakistan are the nuclear powers, So global community must take it seriously" said Mr. Sajjad Mir.

Salman Ghani, Senior Analyst and Journalist, Dunya TV, said that Modi was following Hindutva philosophy and it had also exposed India's false claims of biggest democracy and secular state of the world. He said that Pakistan was countering India successfully at international forums.

Salman Abid, Senior Journalist and columnist was also of the view that BJP government was implementing philosophy of extremist Hindu organization RSS. He said that the present crisis in Kashmir had vindicated two-nation theory that the demand for the separate homeland by the Muslims was justified. Dr. Anjum Zia, HoD of Mass Communication Department said that India should stop denying ground realities, must come out of illusions and accept the fact that it cannot suppress the voice of Kashmiris with brute force and conspiracies. She further criticized the Indian media for being obsessed with enmity of Pakistan.

In her concluding remarks, Dr Bushra Mirza, VC of LCWU expressed her solidarity with the people of Kashmir and thanked the participants. Kashmir is the jugular vein of Pakistan and the prevailing situation demands unity in ranks of people from all walks of life to effectively and forcefully raise the plight of Kashmiri people at international level, said the VC

The seminar was attended by a large number of teachers and students of LCWU and media persons.