Four Days Celebration in Context with LISA 2020 Symposium: "Connecting to Build Capacity to Transform Evidence into Action" and the International Year of Women in Statistics and Data Science  FundingApproved by ISI (WB TFSCB) Organized by Department of Statistics in collaboration with  LISA-LCWU, Lahore Dated: 19th October, 2020 to 22nd October, 2020
Statistics department has arranged a series of events in the context of LISA 2020 3rdSymposium, particularly focusing on connecting to build capacity to transform evidence into action and celebrate the international year of women in Statistics and Data Science. For entire series of events financialsupport was approved by International Statistical Institute (ISI).
Day 1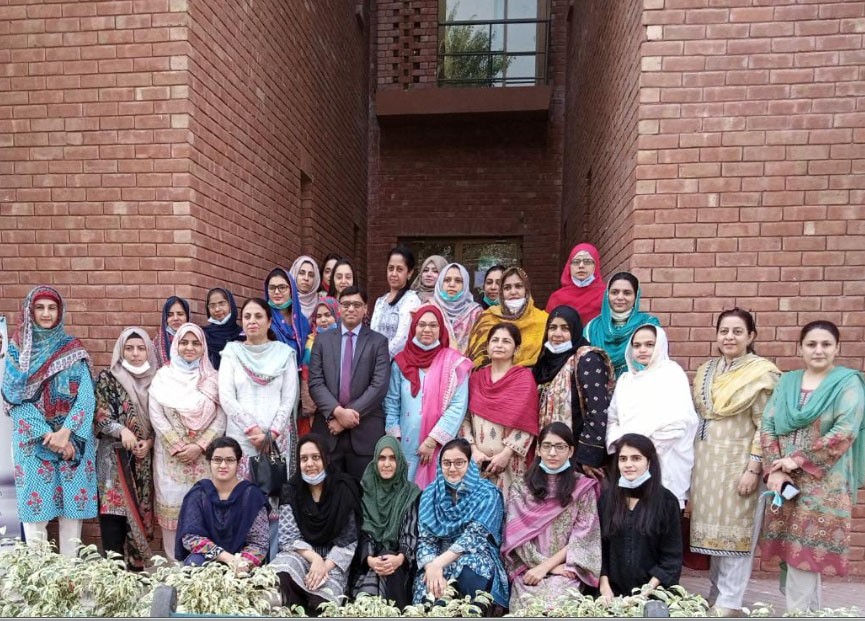 One day workshopon "Advance Analysis Skills & Graphing Solutions in Scientific Research with GraphPad PRISM"dated 19 – 10 – 2020 was organized. Ms. AfzaRasul, Lecturer (also PhD Scholar at GCU, Lahore), was instructor. The workshop focused on visualization of data using PRISM. Total 31 participants were registered, majority were faculty of Statistics department, students of MS Statistics and PhD scholars from Biotechnology department.

Day 2
International Webinar
An international webinar was organizedunder the title: "Statistics: Solution to Interdisciplinary Research Problems". This webinar was the sub event of the 3rd LISA 2020 International Symposium. Event was chaired by MS. Mahnaz Makhdum Chairperson Department of Statistics, LCWU, Lahore. Vice Chancellor LCWU, Prof. Dr. Bushra Mirza joined webinar and appreciated the efforts of Department of Statistics and LISA LCWU, for their contribution to promote the subject and their role in the capacity building of women in Statistics. The webinar included four talks. Dr. Sat Gupta, Professor of Statistics and Head, Mathematics and Statistic Department at the University of North Carolina, Greensboro United States put a light on 
"A Mixture Binary RRT Model with a Unified Measure of Privacy and Efficiency"
Prof. Dr. Saleha Naghmi Habibullah, Professor of statistics and former Research Director at Kinnaird College for women talked about:
"Role of Higher Education Institutions in Spreading Awareness Regarding the Socio-Economic Situation of Pakistan"
Dr. Faiza Tabassum was the 3rd speaker. She is a faculty member at Southampton Business School, UK. Her topic of discussion was:
"Interdisciplinary Research: The Role of Statistics"
And the last speaker was Dr. Maryam Ilyas, Assistant Professor from College of Statistics & actuarial sciences, University of the Punjab. She talked about:
"Spatial Statistics with Applications to Climate Science"
While concluding webinar Dr. Asifa Kamal, member LISA-LCWU, gave brief overview of LISA 2020 network. She thanked International Statistical Institute (ISI) for approval of financial support for all the events conducted by LISA-LCWU. She also invited participants to become member of ISI. Being a member of LISA-LCWU, she appreciated the efforts of Prof. Dr. Eric Vance for generating collaborative network of Statisticians for developing countries.
Zoom was used to conduct webinar and attached it to LCWU WebTV that broadcasted it live. It can be watched using following link
https://www.facebook.com/webtvlcwu/videos/353557319227685/?sfnsn=scwspmo
Day 3-4
Two days' workshop was conducted from 21–10–2020 to 22–10– 2020 under the title:
"Structural Equation Modeling, Mediation and Moderation Analysis using AMOS and the PROCESS macro for SPSS"
Dr. Sharjeel Saleem, Associate Professor, Lyallpur Business School, Government College University, Faisalabad was the instructor. Number of participants accommodated were 34. In this workshop faculty and PhD scholars from Statistics, Psychology, Mass Communication, Economics and Business Management department. 
All these events has uplifted the subject of Statistics and not only benefited women in Statistics but also boosted image of Statistics as interdisciplinary subject in other departments of university.