LAHORE/ISLAMABAD: Prime Minister's wife Bushra Imran on Saturday inaugurated the Shaikh Abul Hasan Ash Shadhili Research Hub for promotion of Sufism, Science and Technology in the country during a solemn ceremony here at the Punjab Sports Board (PSB) E-Library building at Nishter Park Sports Complex.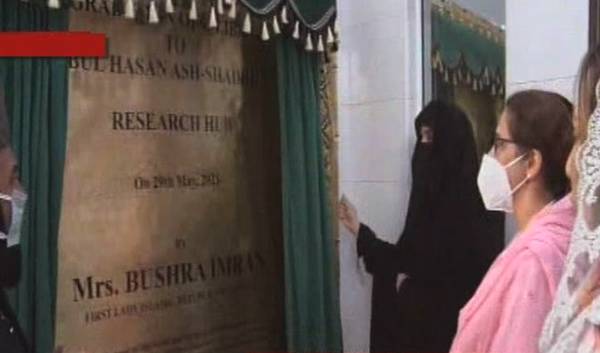 LCWU VC Dr Bushra Mirza lauded Bushra Imran for her services to the poor strata of society through the establishment of shelter homes and free food centers, besides taking care of the orphans in the country. Her vision of promoting Islamic research principles in Sufism would go a long way in reviving the glorious past of the Mus lims, she added.

Sheikh Abul Hasan Ash-Shadhili Sufism, Science & Technology Research Centre is going to be established at new campus of Government College University Lahore located at Kala Shah Kaku.The initiative comes from Chief Minister Usman Buzdar and the Department of Higher Education upon the vision and special interest of Prime Minister Imran Khan's wife Mrs Bushra Imran.

Nadeem Mahboob, Secretary Higher Education Department (HED) Punjab, Secretary Sports and Youth Affairs Punjab Fuad Hashim Rabbani, Secretary Higher Education Department (HED) Nadeem Mehboob, Punjab Higher Education Commission Chairman (PHEC) Dr Fazal Ahmed Khalid, Government College University (GCU) Lahore VC Dr Asghar Zaidi, Maulana Raghib Naeemi, Special Assistant to the PM Dr Shahbaz Gill, religious scholars and women parliamentarians attended the ceremony.