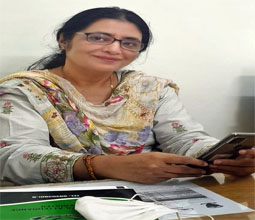 Dr. Shabana Asgher
Assistant Professor/Incharge
Department of Mass Communications
Email: This email address is being protected from spambots. You need JavaScript enabled to view it.
This email address is being protected from spambots. You need JavaScript enabled to view it.
Qualification
• PHD Mass Communication (2022)
• M. Phil in Mass Communication (1998)
Institute of Communication Studies
University of the Punjab, Lahore
• Masters in Mass Communication(1993)
Institute of Communication Studies
University of the Punjab, Lahore
Teaching Experience
Assistant Professor in Department of Mass Communication

Lahore College for Women University Lahore since 2005

• Lecturer in Department of Mass Communication

Lahore College for Women University Lahore (2003-2005)

• Lecturer (Contract Basis) in Department of Mass Communication

Lahore College for Women University Lahore (2001-2003)

• Lecturer (Honorary basis) in Department of Mass Communication

Govt. Chuna Mandi College, Lahore. (1999-2002)
Conferences Attended
• AMCAP-UO-2022 International Media Conference "Health and Well-being in (Post) Pandemic World: Roles and Responsibilities of Media & Communication" Held on 02-03 February 2022 at University of Okara
Paper presented; Cyberchondria; Online health information and escalation of health concerns.
• International Virtual conference "Transformative role of Social media amid Covid19" 16-17 Oct 2020 (Ilma University)
Paper Presented; Perceived usefulness and effects of online health information during Covid19; Is there any role of demographics?
• National Conference "Media as soft power in 21st century" 10th-11th Oct 2019. NUML, Islamabad.
Paper presented; Role of Online Media Literacy in Creating Awareness Regarding Privacy Protection Methods and Their Implication Among Users.
• AMCAP International Conference – 2019: Media Education in Pakistan: Challenges and Opportunities February 28, 2019 SZABIST, Islamabad Pakistan
• 1st International Conference on Media & Violent Extremism February 26 & 27, 2019 Bahria University, Islamabad Pakistan
Paper presented; Coverage of Violent-crime news; A comparative study of Urdu and English dailies.
• Women, Media & Transitional Perspectives, 28th Feb – 01st Mar 2018 in Lahore
• International Journalism Conference, 9-11th December 2017 in Lahore
Workshops Attended
Webinar

13-07-22

Registered

Research data –Why it Matters and How to manage confirmation

Elsevier

Webinar

8-6-22

Empowering Knowledge von ethical publishing: Mastering the art of identifying predatory, fake and cloned journals

Elsevier

 

 

 

Elsevier

Ethnography

1-3-2022

 

USEFP George Washington University/ LCWU/ FC C

Qualitative data analysis with a gender and Intersectional framework

25-10-2021

27-10-2021

USEFP George Washington University/ LCWU/FCC

Qualitative data analysis using NVIVO

28-12-2021

29-12-2021

Development Communication Deptt, School of Communication Studies, University of the Punjab.

ACP

11-10-2021

15-10-2021

British Council/ LCWU

Publication process for novice Researchers (Online)

25-6-2020

26-6-2020

Claspin Tech

Writing f for Publication

13-11-2016

16-11-2016

Arizona State University/ ICS, Punjab University

Literature Review as a Road map

15-11-2016

16-11-2016

Arizona State University/ ICS, Punjab University

 

 

 

 

Qualitative Research Methods

28-5-2012

8-6-2012

DFDI ,LCWU/ Dr Shabana Meer

Developing Effective Teaching and Learning

24-9-2012

28-9-2012

DFDI / LCWU
Seminars/ Webinars
1-Webinar on Literature Review Dr Sadia Nouman Ishtiaq AMCAP

2-The essentials of Theory and Practice of Data Journalism 10-8-2020

3- Promoting research excellence in academics across Pakistan. HEC & Elsevier 1-2-2022 2-2-2022

Specialization
Research Methods

Communication Theories

Media History
Thesis Supervised
At MS/M.Phil Level 15 Theses

At BS Level             100 + theses
Memberships
Association of Media & Communication Academic Professionals
Publications
2021
Knowledge Gap And Digital Media; Effects of Socio-demographics and eHealth literacy on Perceived trust in Online Health information among Female users. Journal of Media Communication, 1(2). 2021(Y-Category) (1st Author)

• Perceived usefulness and effects of Online health information among users amid Covid19; Is there any role of demographics? ILMA Journal of Social Sciences & Economics. 2(1)2021. (Y-Category) (1st Author) http://ijsse.ilmauniversity.edu.pk

• Online health information and female users; needs, Usages and Effects. Journal of Media Communication, 2(1)2021. (Y-Category) (1st Author)